1AACD00070-Engine Water Pump
Replaces
Engine Water Pump ACDelco 252-845 - 1AACD00070
1AACD00070
Part Details
Product Line:

  ACDelco Professional
Specifications
Brand New ACDelco Professional Water Pump
Not remanufactured or rebuilt
Built to strict quality control standards
No core charge
2.02" diameter thermostat outlet

Will fit models with 1.88" Diameter, but buyer will need to purchase new thermostat that size
Item Condition: New

Lifetime Warranty
This item is backed by a Limited Lifetime Warranty. In the event this item should fail due to manufacturing defects during intended use, we will exchange the part free of charge (excludes shipping charges) for the original purchaser.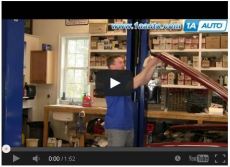 Tools needed for replacement:
General Tools

Drain Pan
Razor Blade / Gasket Scraper

Ratchets & Related

Ratchet

Screwdrivers & Related

Flat Blade Screwdriver

Sockets - Metric

10mm Socket
15mm Socket
8mm Socket
So far so good
Ive put a couple hundred miles on the new water pump. No issues whatsoever thus far. Re-used the old thermostat. Everything I needed including gaskets came with the pump. Instructional video on YouTube helped. I would recommend looking up other videos on YouTube for help getting the radiator fan off. The ratchet strap method worked well for me. Great product.
Customer Q&A
Ask a question to 1A Auto customers who purchased the product
Does the AC Delco professional water pump come with gaskets? 2002 gmc Sierra 4.8 vin V
Yes!
Carolyn N
December 21, 2015
Yes, this will come with the Gasket. This is the AC Delco part and will come exactly as you would receive from the dealer. Thank you and have a great day!
Derek C
December 29, 2015
Be sure the box you get is taped good on all seams Mostly on the bottom were small bags like gaskets can & have fallen out.
Robert J
February 25, 2017
Does this water pump come with the fan clutch?
The fan clutch is not included with the water pump. Thank you!
Nope, no fan clutch. Just the pump Not nearly as sturdy as the stock pump. It works but if I had to do it again I'd get an OEM even if it cost more.
| Year | Make | Model | Description |
| --- | --- | --- | --- |
| 2004 | Buick | Rainier | Buick Rainier Engine Water Pump V8 5.3L (8th Vin Digit P) ACDelco Professional ACDelco 252-845 |
| 2002-2003 | Cadillac | Escalade | Cadillac Escalade Engine Water Pump V8 5.3L (8th Vin Digit T) ACDelco Professional ACDelco 252-845 |
| 2002-2003 | Cadillac | Escalade | Cadillac Escalade Engine Water Pump V8 6.0L (8th Vin Digit N) ACDelco Professional ACDelco 252-845 |
| 2003 | Cadillac | Escalade ESV | Cadillac Escalade ESV Engine Water Pump V8 6.0L (8th Vin Digit N) ACDelco Professional ACDelco 252-845 |
| 2002-2003 | Cadillac | Escalade EXT | Cadillac Escalade EXT Engine Water Pump V8 6.0L (8th Vin Digit N) ACDelco Professional ACDelco 252-845 |
| 2002-2003 | Chevy | Avalanche 1500 | Chevy Avalanche 1500 Engine Water Pump V8 5.3L (8th Vin Digit T) ACDelco Professional ACDelco 252-845 |
| 2003 | Chevy | Express 1500 Van | Chevy Express 1500 Van Engine Water Pump V8 5.3L (8th Vin Digit T) ACDelco Professional ACDelco 252-845 |
| 2003-2005 | Chevy | Express 2500 Van | Chevy Express 2500 Van Engine Water Pump V8 6.0L (8th Vin Digit U) ACDelco Professional ACDelco 252-845 |
| 2003-2005 | Chevy | Express 2500 Van | Chevy Express 2500 Van Engine Water Pump V8 4.8L (8th Vin Digit V) ACDelco Professional ACDelco 252-845 |
| 2003-2005 | Chevy | Express 2500 Van | Chevy Express 2500 Van Engine Water Pump V8 5.3L (8th Vin Digit T) ACDelco Professional ACDelco 252-845 |
| 2003 | Chevy | Express 3500 Van | Chevy Express 3500 Van Engine Water Pump V8 6.0L (8th Vin Digit U) ACDelco Professional ACDelco 252-845 |
| 1999-2003 | Chevy | Silverado 1500 | Chevy Silverado 1500 Engine Water Pump V8 4.8L (8th Vin Digit V) ACDelco Professional ACDelco 252-845 |
| 1999-2003 | Chevy | Silverado 1500 | Chevy Silverado 1500 Engine Water Pump V8 5.3L (8th Vin Digit T) ACDelco Professional ACDelco 252-845 |
| 2001-2003 | Chevy | Silverado 1500 | Chevy Silverado 1500 Engine Water Pump V8 6.0L (8th Vin Digit U) ACDelco Professional ACDelco 252-845 |
| 2002-2003 | Chevy | Silverado 1500 | Chevy Silverado 1500 Engine Water Pump V8 5.3L (8th Vin Digit Z) ACDelco Professional ACDelco 252-845 |
| 2003 | Chevy | Silverado 1500 | Chevy Silverado 1500 Engine Water Pump V8 6.0L (8th Vin Digit N) ACDelco Professional ACDelco 252-845 |
| 2001-2003 | Chevy | Silverado 1500 HD | Chevy Silverado 1500 HD Engine Water Pump V8 6.0L (8th Vin Digit U) ACDelco Professional ACDelco 252-845 |
| 2003 | Chevy | Silverado 1500 HD | Chevy Silverado 1500 HD Engine Water Pump V8 6.0L (8th Vin Digit N) ACDelco Professional ACDelco 252-845 |
| 1999-2000 | Chevy | Silverado 2500 | Chevy Silverado 2500 Engine Water Pump V8 5.3L (8th Vin Digit T) ACDelco Professional ACDelco 252-845 |
| 1999-2003 | Chevy | Silverado 2500 | Chevy Silverado 2500 Engine Water Pump V8 6.0L (8th Vin Digit U) ACDelco Professional ACDelco 252-845 |
| 2001-2003 | Chevy | Silverado 2500 | Chevy Silverado 2500 Engine Water Pump V8 6.0L (8th Vin Digit U) ACDelco Professional ACDelco 252-845 |
| 2001-2003 | Chevy | Silverado 2500 HD | Chevy Silverado 2500 HD Engine Water Pump V8 6.0L (8th Vin Digit U) ACDelco Professional ACDelco 252-845 |
| 2001-2003 | Chevy | Silverado 2500 HD | Chevy Silverado 2500 HD Engine Water Pump V8 6.0L (8th Vin Digit U) ACDelco Professional ACDelco 252-845 |
| 2000-2003 | Chevy | Suburban 1500 | Chevy Suburban 1500 Engine Water Pump V8 5.3L (8th Vin Digit T) ACDelco Professional ACDelco 252-845 |
| 2002-2003 | Chevy | Suburban 1500 | Chevy Suburban 1500 Engine Water Pump V8 5.3L (8th Vin Digit Z) ACDelco Professional ACDelco 252-845 |
| 2000-2003 | Chevy | Tahoe | Chevy Tahoe Engine Water Pump V8 4.8L (8th Vin Digit V) ACDelco Professional ACDelco 252-845 |
| 2000-2003 | Chevy | Tahoe | Chevy Tahoe Engine Water Pump V8 5.3L (8th Vin Digit T) ACDelco Professional ACDelco 252-845 |
| 2002-2003 | Chevy | Tahoe | Chevy Tahoe Engine Water Pump V8 5.3L (8th Vin Digit Z) ACDelco Professional ACDelco 252-845 |
| 2003 | GMC | Savana 1500 Van | GMC Savana 1500 Van Engine Water Pump V8 5.3L (8th Vin Digit T) ACDelco Professional ACDelco 252-845 |
| 2003-2005 | GMC | Savana 2500 Van | GMC Savana 2500 Van Engine Water Pump V8 5.3L (8th Vin Digit T) ACDelco Professional ACDelco 252-845 |
| 2003-2005 | GMC | Savana 2500 Van | GMC Savana 2500 Van Engine Water Pump V8 4.8L (8th Vin Digit V) ACDelco Professional ACDelco 252-845 |
| 2003-2005 | GMC | Savana 2500 Van | GMC Savana 2500 Van Engine Water Pump V8 6.0L (8th Vin Digit U) ACDelco Professional ACDelco 252-845 |
| 2003 | GMC | Savana 3500 Van | GMC Savana 3500 Van Engine Water Pump V8 6.0L (8th Vin Digit U) ACDelco Professional ACDelco 252-845 |
| 1999-2003 | GMC | Sierra 1500 | GMC Sierra 1500 Engine Water Pump V8 5.3L (8th Vin Digit T) ACDelco Professional ACDelco 252-845 |
| 1999-2003 | GMC | Sierra 1500 | GMC Sierra 1500 Engine Water Pump V8 4.8L (8th Vin Digit V) ACDelco Professional ACDelco 252-845 |
| 2001 | GMC | Sierra 1500 | GMC Sierra 1500 Engine Water Pump V8 6.0L (8th Vin Digit U) ACDelco Professional ACDelco 252-845 |
| 2001-2003 | GMC | Sierra 1500 | GMC Sierra 1500 Engine Water Pump V8 6.0L (8th Vin Digit U) ACDelco Professional ACDelco 252-845 |
| 2002-2003 | GMC | Sierra 1500 | GMC Sierra 1500 Engine Water Pump V8 5.3L (8th Vin Digit Z) ACDelco Professional ACDelco 252-845 |
| 2001-2003 | GMC | Sierra 1500 HD | GMC Sierra 1500 HD Engine Water Pump V8 6.0L (8th Vin Digit U) ACDelco Professional ACDelco 252-845 |
| 2001 | GMC | Sierra 1500 HD | GMC Sierra 1500 HD Engine Water Pump V8 6.0L (8th Vin Digit U) ACDelco Professional ACDelco 252-845 |
| 1999-2003 | GMC | Sierra 2500 | GMC Sierra 2500 Engine Water Pump V8 6.0L (8th Vin Digit U) ACDelco Professional ACDelco 252-845 |
| 1999-2000 | GMC | Sierra 2500 | GMC Sierra 2500 Engine Water Pump V8 5.3L (8th Vin Digit T) ACDelco Professional ACDelco 252-845 |
| 2001-2003 | GMC | Sierra 2500 | GMC Sierra 2500 Engine Water Pump V8 6.0L (8th Vin Digit U) ACDelco Professional ACDelco 252-845 |
| 2001-2003 | GMC | Sierra 2500 HD | GMC Sierra 2500 HD Engine Water Pump V8 6.0L (8th Vin Digit U) ACDelco Professional ACDelco 252-845 |
| 2001-2003 | GMC | Sierra 2500 HD | GMC Sierra 2500 HD Engine Water Pump V8 6.0L (8th Vin Digit U) ACDelco Professional ACDelco 252-845 |
| 2001-2003 | GMC | Sierra 3500 | GMC Sierra 3500 Engine Water Pump V8 6.0L (8th Vin Digit U) ACDelco Professional ACDelco 252-845 |
| 2000-2003 | GMC | Yukon | GMC Yukon Engine Water Pump V8 5.3L (8th Vin Digit T) ACDelco Professional ACDelco 252-845 |
| 2001-2003 | GMC | Yukon | GMC Yukon Engine Water Pump V8 4.8L (8th Vin Digit V) ACDelco Professional ACDelco 252-845 |
| 2002-2003 | GMC | Yukon | GMC Yukon Engine Water Pump V8 5.3L (8th Vin Digit Z) ACDelco Professional ACDelco 252-845 |
| 2000-2003 | GMC | Yukon XL 1500 | GMC Yukon XL 1500 Engine Water Pump V8 5.3L (8th Vin Digit T) ACDelco Professional ACDelco 252-845 |
| 2002-2003 | GMC | Yukon XL 1500 | GMC Yukon XL 1500 Engine Water Pump V8 5.3L (8th Vin Digit Z) ACDelco Professional ACDelco 252-845 |
| 2000-2003 | GMC | Yukon XL 2500 | GMC Yukon XL 2500 Engine Water Pump V8 6.0L (8th Vin Digit U) ACDelco Professional ACDelco 252-845 |
| 2003 | Hummer | H2 | Hummer H2 Engine Water Pump V8 6.0L (8th Vin Digit U) ACDelco Professional ACDelco 252-845 |
| 2003-2004 | Isuzu | Ascender | Isuzu Ascender Engine Water Pump V8 5.3L (8th Vin Digit P) ACDelco Professional ACDelco 252-845 |
| 2005-2006 | Saab | 9-7X | Saab 9-7X Engine Water Pump V8 5.3L (8th Vin Digit M) ACDelco Professional ACDelco 252-845 |
Part #: 1AACD00070
Order must be placed by 4pm ET
Get it in: 2 - 4 Business Days
Want it sooner? Choose Next Day Air at Checkout

Brand #: 252-845