1AEMX00136-Engine Oil Dipstick Tube
Replaces
Engine Oil Dipstick Tube Dorman 917-303 - 1AEMX00136
1AEMX00136
This engine oil dipstick tube is a new, aftermarket part. It is designed to replace a old, rusted, or damaged dip stick tube. 1A has all your auto needs in one stop shopping!
Specifications:
Direct replacement

Replaces dealer part numbers: 12563918, 12558684, 12603506, 12610053

Direct replacement

Built to strict quality control standards
If your engine oil dipstick tube is old and rusty, why not replace it now with this great fitting alternative!
Lifetime Warranty
This item is backed by a Limited Lifetime Warranty. In the event this item should fail due to manufacturing defects during intended use, we will exchange the part free of charge (excludes shipping charges) for the original purchaser.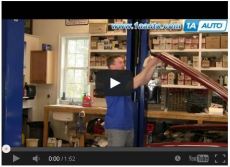 step : Removing the Oil Dipstick Tube (0:38)

Pull out the dip stick and set it aside
Remove 15mm bolt from the bracket
Pull the dipstick tube up and out

step : Replacing the Oil Dipstick Tube (1:12)

Pull out the spark plug wire
Spray down the O-ring with penetrating oil
Push the tube back into place
Place the 15mm bolt into the cylinder head
Replace the dipstick
Tools needed for replacement:
Materials, Fluids, and Supplies

Rust Penetrant

Ratchets & Related

Socket Extensions
Ratchet

Sockets - Metric

15mm Socket
Vehicle Fit
2002-2005 Cadillac Escalade Engine Oil Dipstick Tube V8 5.3L (8th Vin Digit T) Dorman 917-303
2002-2006 Cadillac Escalade Engine Oil Dipstick Tube V8 6.0L (8th Vin Digit N) Dorman 917-303
2003-2006 Cadillac Escalade ESV Engine Oil Dipstick Tube V8 6.0L (8th Vin Digit N) Dorman 917-303
2002-2006 Cadillac Escalade EXT Engine Oil Dipstick Tube V8 6.0L (8th Vin Digit N) Dorman 917-303
2002-2006 Chevy Avalanche 1500 Engine Oil Dipstick Tube V8 5.3L (8th Vin Digit T) Dorman 917-303
2005-2006 Chevy Avalanche 1500 Engine Oil Dipstick Tube V8 5.3L (8th Vin Digit Z) Dorman 917-303
2007 Chevy Avalanche 1500 Engine Oil Dipstick Tube V8 5.3L (8th Vin Digit J) Dorman 917-303
2007 Chevy Avalanche 1500 Engine Oil Dipstick Tube V8 5.3L (8th Vin Digit 0) Dorman 917-303
2007 Chevy Avalanche 1500 Engine Oil Dipstick Tube V8 6.0L (8th Vin Digit Y) Dorman 917-303
2007 Chevy Avalanche 1500 Engine Oil Dipstick Tube V8 5.3L (8th Vin Digit 3) Dorman 917-303
1999-2007 Chevy Silverado 1500 Engine Oil Dipstick Tube V8 4.8L (8th Vin Digit V) Dorman 917-303
1999-2007 Chevy Silverado 1500 Engine Oil Dipstick Tube V8 5.3L (8th Vin Digit T) Dorman 917-303
2001-2007 Chevy Silverado 1500 Engine Oil Dipstick Tube V8 6.0L (8th Vin Digit U) Dorman 917-303
2002-2007 Chevy Silverado 1500 Engine Oil Dipstick Tube V8 5.3L (8th Vin Digit Z) Dorman 917-303
2003-2006 Chevy Silverado 1500 SS Engine Oil Dipstick Tube V8 6.0L (8th Vin Digit N) Dorman 917-303
2005-2006 Chevy Silverado 1500 Engine Oil Dipstick Tube V8 6.0L (8th Vin Digit N) Dorman 917-303
2005-2006 Chevy Silverado 1500 Engine Oil Dipstick Tube V8 5.3L (8th Vin Digit B) Dorman 917-303
2007 Chevy Silverado 1500 Classic Engine Oil Dipstick Tube V8 5.3L (8th Vin Digit B) Dorman 917-303
2007 Chevy Silverado 1500 Classic Engine Oil Dipstick Tube V8 5.3L (8th Vin Digit T) Dorman 917-303
2007 Chevy Silverado 1500 Classic Engine Oil Dipstick Tube V8 6.0L (8th Vin Digit U) Dorman 917-303
2007 Chevy Silverado 1500 Classic Engine Oil Dipstick Tube V8 4.8L (8th Vin Digit V) Dorman 917-303
2007 Chevy Silverado 1500 Classic Engine Oil Dipstick Tube V8 5.3L (8th Vin Digit Z) Dorman 917-303
2007 Chevy Silverado 1500 Classic Engine Oil Dipstick Tube V8 4.8L (8th Vin Digit C) Dorman 917-303
2007 Chevy Silverado 1500 Classic Engine Oil Dipstick Tube V8 6.0L (8th Vin Digit N) Dorman 917-303
2007 Chevy Silverado 1500 Classic Engine Oil Dipstick Tube V8 5.3L (8th Vin Digit M) Dorman 917-303
2007 Chevy Silverado 1500 Classic Engine Oil Dipstick Tube V8 5.3L (8th Vin Digit 3) Dorman 917-303
2007 Chevy Silverado 1500 Classic Engine Oil Dipstick Tube V8 5.3L (8th Vin Digit 0) Dorman 917-303
2007 Chevy Silverado 1500 Classic Engine Oil Dipstick Tube V8 5.3L (8th Vin Digit J) Dorman 917-303
2007 Chevy Silverado 1500 Classic Engine Oil Dipstick Tube V8 6.0L (8th Vin Digit Y) Dorman 917-303
2001-2003 Chevy Silverado 1500 HD Engine Oil Dipstick Tube V8 6.0L Dorman 917-303
2005-2006 Chevy Silverado 1500 HD Engine Oil Dipstick Tube V8 6.0L Dorman 917-303
2007 Chevy Silverado 1500 HD Classic Engine Oil Dipstick Tube V8 6.0L Dorman 917-303
1999-2004 Chevy Silverado 2500 Engine Oil Dipstick Tube V8 6.0L (8th Vin Digit U) Dorman 917-303
1999-2000 Chevy Silverado 2500 Engine Oil Dipstick Tube V8 5.3L (8th Vin Digit T) Dorman 917-303
2001-2004 Chevy Silverado 2500 Engine Oil Dipstick Tube V8 6.0L (8th Vin Digit U) Dorman 917-303
2001-2004 Chevy Silverado 2500 HD Engine Oil Dipstick Tube V8 6.0L (8th Vin Digit U) Dorman 917-303
2001-2006 Chevy Silverado 2500 HD Engine Oil Dipstick Tube V8 6.0L (8th Vin Digit U) Dorman 917-303
2007 Chevy Silverado 2500 HD Classic Engine Oil Dipstick Tube V8 6.0L (8th Vin Digit K) Dorman 917-303
2007 Chevy Silverado 2500 HD Classic Engine Oil Dipstick Tube V8 6.0L (8th Vin Digit U) Dorman 917-303
2001-2006 Chevy Silverado 3500 Engine Oil Dipstick Tube V8 6.0L (8th Vin Digit U) Dorman 917-303
2007 Chevy Silverado 3500 Classic Engine Oil Dipstick Tube V8 6.0L (8th Vin Digit K) Dorman 917-303
2007 Chevy Silverado 3500 Classic Engine Oil Dipstick Tube V8 6.0L (8th Vin Digit U) Dorman 917-303
2000-2005 Chevy Suburban 1500 Engine Oil Dipstick Tube V8 5.3L (8th Vin Digit T) Dorman 917-303
2002-2006 Chevy Suburban 1500 Engine Oil Dipstick Tube V8 5.3L (8th Vin Digit Z) Dorman 917-303
2006 Chevy Suburban 1500 Engine Oil Dipstick Tube V8 6.0L (8th Vin Digit U) Dorman 917-303
2007 Chevy Suburban 1500 Engine Oil Dipstick Tube V8 6.0L (8th Vin Digit Y) Dorman 917-303
2007 Chevy Suburban 1500 Engine Oil Dipstick Tube V8 5.3L (8th Vin Digit 3) Dorman 917-303
2007 Chevy Suburban 1500 Engine Oil Dipstick Tube V8 5.3L (8th Vin Digit J) Dorman 917-303
2007 Chevy Suburban 1500 Engine Oil Dipstick Tube V8 5.3L (8th Vin Digit 0) Dorman 917-303
2000-2006 Chevy Suburban 2500 Engine Oil Dipstick Tube V8 6.0L (8th Vin Digit U) Dorman 917-303
2007 Chevy Suburban 2500 Engine Oil Dipstick Tube V8 6.0L (8th Vin Digit K) Dorman 917-303
2000-2006 Chevy Tahoe Engine Oil Dipstick Tube V8 5.3L (8th Vin Digit T) Dorman 917-303
2000-2006 Chevy Tahoe Engine Oil Dipstick Tube V8 4.8L (8th Vin Digit V) Dorman 917-303
2002-2006 Chevy Tahoe Engine Oil Dipstick Tube V8 5.3L (8th Vin Digit Z) Dorman 917-303
2007 Chevy Tahoe Engine Oil Dipstick Tube V8 5.3L (8th Vin Digit 0) Dorman 917-303
2007 Chevy Tahoe Engine Oil Dipstick Tube V8 5.3L (8th Vin Digit J) Dorman 917-303
2007 Chevy Tahoe Engine Oil Dipstick Tube V8 4.8L (8th Vin Digit C) Dorman 917-303
1999-2006 GMC Sierra 1500 Engine Oil Dipstick Tube V8 5.3L (8th Vin Digit T) Dorman 917-303
1999-2006 GMC Sierra 1500 Engine Oil Dipstick Tube V8 4.8L (8th Vin Digit V) Dorman 917-303
2001-2006 GMC Sierra 1500 Engine Oil Dipstick Tube V8 6.0L (8th Vin Digit U) Dorman 917-303
2002-2006 GMC Sierra 1500 Engine Oil Dipstick Tube V8 5.3L (8th Vin Digit Z) Dorman 917-303
2005-2006 GMC Sierra 1500 Engine Oil Dipstick Tube V8 6.0L (8th Vin Digit N) Dorman 917-303
2005-2006 GMC Sierra 1500 Engine Oil Dipstick Tube V8 5.3L (8th Vin Digit B) Dorman 917-303
2007 GMC Sierra 1500 Classic Engine Oil Dipstick Tube V8 6.0L (8th Vin Digit Y) Dorman 917-303
2007 GMC Sierra 1500 Classic Engine Oil Dipstick Tube V8 4.8L (8th Vin Digit V) Dorman 917-303
2007 GMC Sierra 1500 Classic Engine Oil Dipstick Tube V8 6.0L (8th Vin Digit N) Dorman 917-303
2007 GMC Sierra 1500 Classic Engine Oil Dipstick Tube V8 5.3L (8th Vin Digit Z) Dorman 917-303
2007 GMC Sierra 1500 Classic Engine Oil Dipstick Tube V8 5.3L (8th Vin Digit T) Dorman 917-303
2007 GMC Sierra 1500 Classic Engine Oil Dipstick Tube V8 5.3L (8th Vin Digit B) Dorman 917-303
2007 GMC Sierra 1500 Classic Engine Oil Dipstick Tube V8 5.3L (8th Vin Digit 0) Dorman 917-303
2007 GMC Sierra 1500 Classic Engine Oil Dipstick Tube V8 5.3L (8th Vin Digit 3) Dorman 917-303
2007 GMC Sierra 1500 Classic Engine Oil Dipstick Tube V8 5.3L (8th Vin Digit M) Dorman 917-303
2007 GMC Sierra 1500 Classic Engine Oil Dipstick Tube V8 4.8L (8th Vin Digit C) Dorman 917-303
2007 GMC Sierra 1500 Classic Engine Oil Dipstick Tube V8 5.3L (8th Vin Digit J) Dorman 917-303
2007 GMC Sierra 1500 Classic Engine Oil Dipstick Tube V8 6.0L (8th Vin Digit U) Dorman 917-303
2001-2003 GMC Sierra 1500 HD Engine Oil Dipstick Tube V8 6.0L Dorman 917-303
2005-2006 GMC Sierra 1500 HD Engine Oil Dipstick Tube V8 6.0L Dorman 917-303
2007 GMC Sierra 1500 HD Classic Engine Oil Dipstick Tube V8 6.0L Dorman 917-303
1999-2004 GMC Sierra 2500 Engine Oil Dipstick Tube V8 6.0L (8th Vin Digit U) Dorman 917-303
1999-2000 GMC Sierra 2500 Engine Oil Dipstick Tube V8 5.3L (8th Vin Digit T) Dorman 917-303
2001-2004 GMC Sierra 2500 Engine Oil Dipstick Tube V8 6.0L (8th Vin Digit U) Dorman 917-303
2001-2004 GMC Sierra 2500 HD Engine Oil Dipstick Tube V8 6.0L (8th Vin Digit U) Dorman 917-303
2001-2006 GMC Sierra 2500 HD Engine Oil Dipstick Tube V8 6.0L (8th Vin Digit U) Dorman 917-303
2007 GMC Sierra 2500 HD Classic Engine Oil Dipstick Tube V8 6.0L (8th Vin Digit K) Dorman 917-303
2007 GMC Sierra 2500 HD Classic Engine Oil Dipstick Tube V8 6.0L (8th Vin Digit U) Dorman 917-303
2001-2006 GMC Sierra 3500 Engine Oil Dipstick Tube V8 6.0L (8th Vin Digit U) Dorman 917-303
2007 GMC Sierra 3500 Classic Engine Oil Dipstick Tube V8 6.0L (8th Vin Digit U) Dorman 917-303
2007 GMC Sierra 3500 Classic Engine Oil Dipstick Tube V8 6.0L (8th Vin Digit K) Dorman 917-303
2000-2006 GMC Yukon Engine Oil Dipstick Tube V8 5.3L (8th Vin Digit T) Dorman 917-303
2000-2006 GMC Yukon Engine Oil Dipstick Tube V8 4.8L (8th Vin Digit V) Dorman 917-303
2002-2006 GMC Yukon Engine Oil Dipstick Tube V8 5.3L (8th Vin Digit Z) Dorman 917-303
2005-2006 GMC Yukon Denali Engine Oil Dipstick Tube with V8 6.0L (8th Vin Digit U) Dorman 917-303
2007 GMC Yukon Engine Oil Dipstick Tube V8 5.3L (8th Vin Digit 0) Dorman 917-303
2007 GMC Yukon Engine Oil Dipstick Tube V8 5.3L (8th Vin Digit J) Dorman 917-303
2007 GMC Yukon Engine Oil Dipstick Tube V8 4.8L (8th Vin Digit C) Dorman 917-303
2000-2005 GMC Yukon XL 1500 Engine Oil Dipstick Tube V8 5.3L (8th Vin Digit T) Dorman 917-303
2002-2006 GMC Yukon XL 1500 Engine Oil Dipstick Tube V8 5.3L (8th Vin Digit Z) Dorman 917-303
2007 GMC Yukon XL 1500 Engine Oil Dipstick Tube V8 5.3L (8th Vin Digit 3) Dorman 917-303
2007 GMC Yukon XL 1500 Engine Oil Dipstick Tube V8 5.3L (8th Vin Digit J) Dorman 917-303
2007 GMC Yukon XL 1500 Engine Oil Dipstick Tube V8 5.3L (8th Vin Digit 0) Dorman 917-303
2000-2006 GMC Yukon XL 2500 Engine Oil Dipstick Tube V8 6.0L (8th Vin Digit U) Dorman 917-303
2007 GMC Yukon XL 2500 Engine Oil Dipstick Tube V8 6.0L (8th Vin Digit K) Dorman 917-303
This part replaces:
OE # 12558684
OE # 12563918
Dorman 917-303

Brand #: 917-303