1ADLA00097-Door Lock Actuator Passenger Side
Replaces
Door Lock Actuator Passenger Side - 1ADLA00097
1ADLA00097
This is a power door lock actuator that mounts inside the door. It is designed to REPLACE a broken or missing unit.
Specifications:
Fits RH (Passenger Side)
Door Lock Actuator

with Bracket & Cover

Replaces dealer part number: 22071946
Electrically operated, not vacuum
Correct electrical connection
Anodized steel housing resists corrosion
This power door lock actuator is built to strict quality control standards. It is a great replacement and has substantial cost savings over a dealer unit.
Our electrical and electronic parts are subject to strict quality control testing. Once the item has been installed or plugged in, it is no longer eligible for a refund. The item may be eligible for replacement, only if it is found to have a manufacturing defect. Before purchasing, please ensure proper diagnosis of the failed original part is performed
Part Details
Side Location: Passenger Side
Includes: Bracket
Includes: Cover
Lifetime Warranty
This item is backed by a Limited Lifetime Warranty. In the event this item should fail due to manufacturing defects during intended use, we will exchange the part free of charge (excludes shipping charges) for the original purchaser.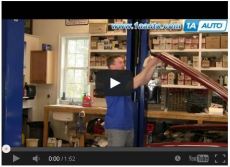 Tools needed for replacement:
Drills, Drill Bits & Related

5/16 Inch Drill Bit

General Tools

Putty Knife

Materials, Fluids, and Supplies

Cloth Rags

Ratchets & Related

Ratchet

Screwdrivers & Related

Flat Blade Screwdriver
Phillips Head Screwdriver

Sockets - Metric

4mm Socket

Specialty Tools

Door Panel Removal Tool
Vehicle Fit
1977-1989 Buick Century Door Lock Actuator with Bracket & Cover Passenger Side
1990-1996 Buick Century Rear Door Lock Actuator with Bracket & Cover Passenger Side
1977-1990 Buick Electra Door Lock Actuator with Bracket & Cover Passenger Side
1990 Buick LeSabre Rear Door Lock Actuator with Bracket & Cover Passenger Side
1988-1991 Buick Reatta Door Lock Actuator with Bracket & Cover Passenger Side
1977-1992 Buick Regal Door Lock Actuator with Bracket & Cover Passenger Side
1977-1991 Buick Riviera Door Lock Actuator with Bracket & Cover Passenger Side
1982-1989 Buick Skyhawk Door Lock Actuator with Bracket & Cover Passenger Side
1982-1991 Buick Skylark Door Lock Actuator with Bracket & Cover Passenger Side
1982-1991 Buick Somerset Door Lock Actuator with Bracket & Cover Passenger Side
1977-1990 Cadillac Brougham Door Lock Actuator with Bracket & Cover Passenger Side
1982-1988 Cadillac Cimarron Door Lock Actuator with Bracket & Cover Passenger Side
1977-1990 Cadillac Deville Door Lock Actuator with Bracket & Cover Passenger Side
1977-1991 Cadillac Eldorado Door Lock Actuator with Bracket & Cover Passenger Side
1977-1990 Cadillac Fleetwood Door Lock Actuator with Bracket & Cover Passenger Side
1977-1991 Cadillac Seville Door Lock Actuator with Bracket & Cover Passenger Side
1985-2005 Chevy Astro Front Door Lock Actuator with Bracket & Cover Passenger Side
1990-2005 Chevy Astro Door Lock Actuator with Bracket & Cover for Passenger Side Rear Cargo Door
1987-1993 Chevy Beretta Door Lock Actuator with Bracket & Cover Passenger Side
1977-1994 Chevy Blazer Full Size Door Lock Actuator with Bracket & Cover Passenger Side
1983-1994 Chevy Blazer S10 Door Lock Actuator with Bracket & Cover Passenger Side
1977-1986 Chevy C10 Truck Door Lock Actuator with Bracket & Cover Passenger Side
1988-1998 Chevy C1500 Truck Door Lock Actuator with Bracket & Cover Passenger Side
1977-1986 Chevy C20 Truck Door Lock Actuator with Bracket & Cover Passenger Side
1977-2000 Chevy C2500 Truck Door Lock Actuator with Bracket & Cover Passenger Side
1977-1986 Chevy C30 Truck Door Lock Actuator with Bracket & Cover Passenger Side
1988-2002 Chevy C3500 Truck Door Lock Actuator with Bracket & Cover Passenger Side
1982-1992 Chevy Camaro Door Lock Actuator with Bracket & Cover Passenger Side
1982-1990 Chevy Caprice Door Lock Actuator with Bracket & Cover Passenger Side
1982-1990 Chevy Cavalier Door Lock Actuator with Bracket & Cover Passenger Side
1982-1990 Chevy Celebrity Door Lock Actuator with Bracket & Cover Passenger Side
1982-1985 Chevy Citation Door Lock Actuator with Bracket & Cover Passenger Side
1987-1993 Chevy Corsica Door Lock Actuator with Bracket & Cover Passenger Side
1978-1984 Chevy Corvette Door Lock Actuator with Bracket & Cover Passenger Side
1982-1987 Chevy El Camino Door Lock Actuator with Bracket & Cover Passenger Side
1982-1985 Chevy Impala Door Lock Actuator with Bracket & Cover Passenger Side
1977-1986 Chevy K10 Truck Door Lock Actuator with Bracket & Cover Passenger Side
1988-1998 Chevy K1500 Truck Door Lock Actuator with Bracket & Cover Passenger Side
1977-1986 Chevy K20 Truck Door Lock Actuator with Bracket & Cover Passenger Side
1988-2000 Chevy K2500 Truck Door Lock Actuator with Bracket & Cover Passenger Side
1977-1986 Chevy K30 Truck Door Lock Actuator with Bracket & Cover Passenger Side
1988-2000 Chevy K3500 Truck Door Lock Actuator with Bracket & Cover Passenger Side
1990-1993 Chevy Lumina APV Front Door Lock Actuator with Bracket & Cover Passenger Side
1990-1993 Chevy Lumina APV Door Lock Actuator with Bracket & Cover for Passenger Side Sliding Door
1982-1983 Chevy Malibu Door Lock Actuator with Bracket & Cover Passenger Side
1982-1987 Chevy Monte Carlo Door Lock Actuator with Bracket & Cover Passenger Side
1987 Chevy R1500 Truck Front Door Lock Actuator with Bracket & Cover Passenger Side
1987-1989 Chevy R2500 Truck Front Door Lock Actuator with Bracket & Cover Passenger Side
1987-1991 Chevy R3500 Truck Front Door Lock Actuator with Bracket & Cover Passenger Side
1982-1993 Chevy S10 Pickup Door Lock Actuator with Bracket & Cover Passenger Side
1977-1986 Chevy Suburban C10 Door Lock Actuator with Bracket & Cover Passenger Side
1992-1999 Chevy Suburban C1500 Door Lock Actuator with Bracket & Cover Passenger Side
1992-1999 Chevy Suburban C1500 Door Lock Actuator with Bracket & Cover for Passenger Side Rear Cargo Door
1977-1986 Chevy Suburban C20 Door Lock Actuator with Bracket & Cover Passenger Side
1992-1999 Chevy Suburban C2500 Door Lock Actuator with Bracket & Cover Passenger Side
1992-1999 Chevy Suburban C2500 Door Lock Actuator with Bracket & Cover for Passenger Side Rear Cargo Door
1977-1986 Chevy Suburban K10 Door Lock Actuator with Bracket & Cover Passenger Side
1992-1999 Chevy Suburban K1500 Door Lock Actuator with Bracket & Cover Passenger Side
1992-1999 Chevy Suburban K1500 Door Lock Actuator with Bracket & Cover for Passenger Side Rear Cargo Door
1977-1986 Chevy Suburban K20 Door Lock Actuator with Bracket & Cover Passenger Side
1992-1999 Chevy Suburban K2500 Door Lock Actuator with Bracket & Cover Passenger Side
1992-1999 Chevy Suburban K2500 Door Lock Actuator with Bracket & Cover for Passenger Side Rear Cargo Door
1987-1988 Chevy Suburban R10 Door Lock Actuator with Bracket & Cover Passenger Side
1989-1991 Chevy Suburban R1500 Door Lock Actuator with Bracket & Cover Passenger Side
1987-1988 Chevy Suburban R20 Door Lock Actuator with Bracket & Cover Passenger Side
1988-1991 Chevy Suburban R2500 Door Lock Actuator with Bracket & Cover Passenger Side
1987-1988 Chevy Suburban V10 Door Lock Actuator with Bracket & Cover Passenger Side
1989-1991 Chevy Suburban V1500 Door Lock Actuator with Bracket & Cover Passenger Side
1987-1988 Chevy Suburban V20 Door Lock Actuator with Bracket & Cover Passenger Side
1989-1991 Chevy Suburban V2500 Door Lock Actuator with Bracket & Cover Passenger Side
1995-1999 Chevy Tahoe Front Door Lock Actuator with Bracket & Cover Passenger Side
1995-1999 Chevy Tahoe Door Lock Actuator with Bracket & Cover for Passenger Side Rear Cargo Door
2000 Chevy Tahoe V8 5.7L Front Door Lock Actuator with Bracket & Cover Passenger Side
2000 Chevy Tahoe V8 5.7L Door Lock Actuator with Bracket & Cover Passenger Side Rear Cargo Door
1987 Chevy V1500 Truck Front Door Lock Actuator with Bracket & Cover Passenger Side
1987-1989 Chevy V2500 Truck Front Door Lock Actuator with Bracket & Cover Passenger Side
1987-1991 Chevy V3500 Truck Front Door Lock Actuator with Bracket & Cover Passenger Side
1978-1991 Chevy Van G-Series Front Door Lock Actuator with Bracket & Cover Passenger Side
1985-1995 Chevy Van G-Series Door Lock Actuator with Bracket & Cover for Passenger Side Rear Cargo Door
1996 Chevy Van G-Series Front Door Lock Actuator with Bracket & Cover Passenger Side
1977-1986 1977-86, 1988-98 GMC C1500 Truck Door Lock Actuator with Bracket & Cover Passenger Side
1988-1998 1977-86, 1988-98 GMC C1500 Truck Door Lock Actuator with Bracket & Cover Passenger Side
1977-1986 1977-86, 1988-00 GMC C2500 Truck Door Lock Actuator with Bracket & Cover Passenger Side
1988-2000 1977-86, 1988-00 GMC C2500 Truck Door Lock Actuator with Bracket & Cover Passenger Side
1977-1986 1977-86, 1988-02 GMC C3500 Truck Door Lock Actuator with Bracket & Cover Passenger Side
1988-2002 1977-86, 1988-02 GMC C3500 Truck Door Lock Actuator with Bracket & Cover Passenger Side
1978-1987 GMC Caballero Door Lock Actuator with Bracket & Cover Passenger Side
1977-1991 GMC Jimmy Full Size Door Lock Actuator with Bracket & Cover Passenger Side
1983-1994 GMC Jimmy S-15 Door Lock Actuator with Bracket & Cover Passenger Side
1977-1986 1977-86, 1988-00 GMC K1500 Truck Door Lock Actuator with Bracket & Cover Passenger Side
1988-2000 1977-86, 1988-00 GMC K1500 Truck Door Lock Actuator with Bracket & Cover Passenger Side
1977-1986 1977-86, 1988-00 GMC K2500 Truck Door Lock Actuator with Bracket & Cover Passenger Side
1988-2000 1977-86, 1988-00 GMC K2500 Truck Door Lock Actuator with Bracket & Cover Passenger Side
1977-1986 1977-86, 1988-00 GMC K3500 Truck Door Lock Actuator with Bracket & Cover Passenger Side
1988-2000 1977-86, 1988-00 GMC K3500 Truck Door Lock Actuator with Bracket & Cover Passenger Side
1987 GMC R1500 Truck Front Door Lock Actuator with Bracket & Cover Passenger Side
1987-1989 GMC R2500 Truck Front Door Lock Actuator with Bracket & Cover Passenger Side
1987-1991 GMC R3500 Truck Front Door Lock Actuator with Bracket & Cover Passenger Side
1982-1990 GMC S-15 Pickup Door Lock Actuator with Bracket & Cover Passenger Side
1991-1993 GMC S-15 Sonoma Door Lock Actuator with Bracket & Cover Passenger Side
1985-2005 GMC Safari Front Door Lock Actuator with Bracket & Cover Passenger Side
1990-2005 GMC Safari Door Lock Actuator with Bracket & Cover for Passenger Side Rear Cargo Door
1977-1986 1977-86, 1992-99 GMC Suburban C1500 Door Lock Actuator with Bracket & Cover Passenger Side
1992-1999 1977-86, 1992-99 GMC Suburban C1500 Door Lock Actuator with Bracket & Cover Passenger Side
1992-1999 GMC Suburban C1500 Door Lock Actuator with Bracket & Cover for Passenger Side Rear Cargo Door
1977-1986 1977-86, 1992-99 GMC Suburban C2500 Door Lock Actuator with Bracket & Cover Passenger Side
1992-1999 1977-86, 1992-99 GMC Suburban C2500 Door Lock Actuator with Bracket & Cover Passenger Side
1992-1999 GMC Suburban C2500 Door Lock Actuator with Bracket & Cover for Passenger Side Rear Cargo Door
1977-1986 1977-86, 1992-99 GMC Suburban K1500 Door Lock Actuator with Bracket & Cover Passenger Side
1992-1999 1977-86, 1992-99 GMC Suburban K1500 Door Lock Actuator with Bracket & Cover Passenger Side
1992-1999 GMC Suburban K1500 Door Lock Actuator with Bracket & Cover for Passenger Side Rear Cargo Door
1977-1986 1977-86, 1992-99 GMC Suburban K2500 Door Lock Actuator with Bracket & Cover Passenger Side
1992-1999 1977-86, 1992-99 GMC Suburban K2500 Door Lock Actuator with Bracket & Cover Passenger Side
1992-1999 GMC Suburban K2500 Door Lock Actuator with Bracket & Cover for Passenger Side Rear Cargo Door
1987-1991 GMC Suburban R1500 Door Lock Actuator with Bracket & Cover Passenger Side
1987-1991 GMC Suburban R2500 Door Lock Actuator with Bracket & Cover Passenger Side
1987-1991 GMC Suburban V1500 Door Lock Actuator with Bracket & Cover Passenger Side
1987-1991 GMC Suburban V2500 Door Lock Actuator with Bracket & Cover Passenger Side
1991 GMC Syclone Door Lock Actuator with Bracket & Cover Passenger Side
1992-1993 GMC Typhoon Door Lock Actuator with Bracket & Cover Passenger Side
1987 GMC V1500 Truck Front Door Lock Actuator with Bracket & Cover Passenger Side
1987-1989 GMC V2500 Truck Front Door Lock Actuator with Bracket & Cover Passenger Side
1987-1991 GMC V3500 Truck Front Door Lock Actuator with Bracket & Cover Passenger Side
1978-1991 GMC Van Front Door Lock Actuator with Bracket & Cover Passenger Side
1985-1995 GMC Van Door Lock Actuator with Bracket & Cover for Passenger Side Rear Cargo Door
1996 GMC Van Front Door Lock Actuator with Bracket & Cover Passenger Side
1992-1999 GMC Yukon Front Door Lock Actuator with Bracket & Cover Passenger Side
1992-1999 GMC Yukon Door Lock Actuator with Bracket & Cover for Passenger Side Rear Cargo Door
2000 GMC Yukon Denali Door Lock Actuator with Bracket & Cover for Passenger Side Rear Cargo Door
2000 GMC Yukon Denali Front Door Lock Actuator with Bracket & Cover Passenger Side
1977-1985 Olds 442 Door Lock Actuator with Bracket & Cover Passenger Side
1977-1990 Olds 88 Door Lock Actuator with Bracket & Cover Passenger Side
1977-1990 Olds 98 Door Lock Actuator with Bracket & Cover Passenger Side
1977-1990 Olds 98-Regency Door Lock Actuator with Bracket & Cover Passenger Side
1991-1994 Olds Bravada Front Door Lock Actuator with Bracket & Cover Passenger Side
1978-1991 Olds Calais Door Lock Actuator with Bracket & Cover Passenger Side
1982-1996 Olds Ciera Door Lock Actuator Rear Passenger Side with Bracket & Cover
1982-1989 Olds Ciera Front Door Lock Actuator with Bracket & Cover Passenger Side
1977-1990 Olds Custom Cruiser Door Lock Actuator with Bracket & Cover Passenger Side
1978-1991 Olds Cutlass Calais Door Lock Actuator with Bracket & Cover Passenger Side
1982-1989 Olds Cutlass Ciera Front Door Lock Actuator with Bracket & Cover Passenger Side
1982-1996 Olds Cutlass Ciera Rear Door Lock Actuator with Bracket & Cover Passenger Side
1977-1985 Olds Cutlass Cruiser Door Lock Actuator with Bracket & Cover Passenger Side
1988-1989 Olds Cutlass Cruiser Door Lock Actuator with Bracket & Cover Passenger Side
1988-1989 Olds Cutlass Supreme Door Lock Actuator with Bracket & Cover Passenger Side
1977-1988 Olds Cutlass Supreme RWD Door Lock Actuator with Bracket & Cover Passenger Side
1977-1990 Olds Delta 88 Door Lock Actuator with Bracket & Cover Passenger Side
1982-1988 Olds Firenza Door Lock Actuator with Bracket & Cover Passenger Side
1982-1984 Olds Omega Door Lock Actuator with Bracket & Cover Passenger Side
1986-1989 Pontiac Bonneville Door Lock Actuator with Bracket & Cover Passenger Side
1984-1988 Pontiac Fiero Door Lock Actuator with Bracket & Cover Passenger Side
1982-1992 Pontiac Firebird Door Lock Actuator with Bracket & Cover Passenger Side
1986-1987 Pontiac Grand Prix Door Lock Actuator with Bracket & Cover Passenger Side
This part replaces:
OE # 22071946
Standard Motor Products DLA-7