1AADC00001-Differential Cover with Gasket
Replaces
Differential Cover with Gasket - 1AADC00001
1AADC00001
Specifications:
Fits vehicles with the following ring gear sizes as designated:

8.50 Ring Gear
8.625 Ring Gear
8.80 Ring Gear

Uses 10 bolts to secure it to rear axle assembly
Direct replacement
Built to strict quality control standards
Can be painted by the buyer (recommended) to any color desired or installed as is
Stamped steel construction
Replace your rusted, dented, or damaged differential cover with this great fitting alternative. It makes a great replacement and has good cost savings over a dealer cover.
Lifetime Warranty
This item is backed by a Limited Lifetime Warranty. In the event this item should fail due to manufacturing defects during intended use, we will exchange the part free of charge (excludes shipping charges) for the original purchaser.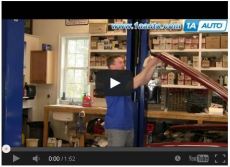 step : Remove the rear differential cover (2:05)

Make sure your gasket is the correct fit.
Unbolt the differential cover with a half inch socket.
Drain the fluid into a catch pan.
Clean up the differential cover and differential

step : Replace the rear differential cover (4:55)

Apply gasket sealant to the edges of the differential cover
Put the gasket onto the differential cover and bolt the differential cover onto the differential.
Fill the differential with fluid.
Tools needed for replacement:
Materials, Fluids, and Supplies

Gasket Adhesive

Ratchets & Related

Ratchet

Wrenches - SAE

1/2 Inch Wrench
Differential cover with gasket
Amazing service, quality parts, delivered on time as promised. The best on line auto parts store out there! Thank you 1A Auto.
April 24, 2018
Purchased
5 months ago
Perfect Match
Nothing super fancy but it looks good. Painted it flat black before the install and looks much better. Gasket was in good shap and everything fit nicely together. Nice cover and fast shipping
June 24, 2017
Purchased
1 year ago
Differential Cover
A1 sent the incorrect Diff Cover. My bad I painted it before I checked it. :(
September 28, 2015
Purchased
over 2 years ago
Vehicle Fit
| Year | Make | Model | Description |
| --- | --- | --- | --- |
| 1982-1984 | Buick | Electra | Buick Electra Rear Differential Cover with Gasket for Models with 8.5 Inch Ring Gear |
| 1982-1990 | Buick | Estate Wagon | Buick Estate Wagon Rear Differential Cover with Gasket for Models with 8.5 or 8.625 Inch Ring Gear |
| 1984-1987 | Buick | Grand National | Buick Grand National Rear Differential Cover with Gasket for Models with 8.5 Inch Ring Gear |
| 1982-1985 | Buick | LeSabre | Buick LeSabre Rear Differential Cover with Gasket for Models with 8.5 or 8.625 Inch Ring Gear |
| 1984-1987 | Buick | Regal | Buick Regal Rear Differential Cover with Gasket for Models with 8.5 Inch Ring Gear |
| 1991-1996 | Buick | Roadmaster | Buick Roadmaster Rear Differential Cover with Gasket for Models with 8.5 or 8.625 Inch Ring Gear |
| 1986-1996 | Cadillac | Brougham | Cadillac Brougham Rear Wheel Drive Differential Cover with Gasket Rear |
| 1984 | Cadillac | Commercial Chassis | Cadillac Commercial Chassis Rear Differential Cover with Gasket V8 6.0L |
| 1999 | Cadillac | Escalade | Cadillac Escalade Rear Differential Cover with Gasket for Models with 8.5 Inch Ring Gear |
| 2000 | Cadillac | Escalade | Cadillac Escalade Rear Differential Cover with Gasket for Models with 8.5 or 8.625 Inch Ring Gear |
| 2002-2006 | Cadillac | Escalade | Cadillac Escalade Rear Differential Cover with Gasket for Models with 8.5 or 8.625 Inch Ring Gear |
| 2003-2006 | Cadillac | Escalade ESV | Cadillac Escalade ESV Rear Differential Cover with Gasket for Models with 8.5 or 8.625 Inch Ring Gear |
| 2002-2005 | Cadillac | Escalade EXT | Cadillac Escalade EXT Rear Differential Cover with Gasket for Models with 8.5 or 8.625 Inch Ring Gear |
| 1984 | Cadillac | Fleetwood | Cadillac Fleetwood Rear Differential Cover with Gasket V8 6.0L |
| 1992-1996 | Cadillac | Fleetwood | Cadillac Fleetwood Rear Wheel Drive Differential Cover with Gasket Rear |
| 2002-2005 | Chevy | Avalanche 1500 | Chevy Avalanche 1500 Rear Differential Cover with Gasket for Models with 8.5 or 8.625 Inch Ring Gear |
| 1985-1994 | Chevy | Blazer Full Size | Chevy Blazer Full Size Rear Differential Cover with Gasket for Models with 8.5 Inch Ring Gear |
| 1994-2005 | Chevy | Blazer S10 | Chevy Blazer S10 Rear Differential Cover with Gasket for Models with 8.5 or 8.625 Inch Ring Gear |
| 1985-1986 | Chevy | C10 Truck | Chevy C10 Truck Rear Differential Cover with Gasket 8.5 Inch Ring Gear |
| 1988-1999 | Chevy | C1500 Truck | Chevy C1500 Truck Rear Differential Cover with Gasket for Models with 8.5 Inch Ring Gear |
| 1985-1986 | Chevy | C20 Truck | Chevy C20 Truck Rear Differential Cover with Gasket 8.5 Inch Ring Gear |
| 1985-1986 | Chevy | C30 Truck | Chevy C30 Truck Rear Differential Cover with Gasket 8.5 Inch Ring Gear |
| 1982-1996 | Chevy | Caprice | Chevy Caprice Rear Differential Cover with Gasket for Models with 8.5 or 8.625 Inch Ring Gear |
| 1996-2006 | Chevy | Express 1500 Van | Chevy Express 1500 Van Rear Differential Cover with Gasket V6 4.3L |
| 1996-2002 | Chevy | Express 1500 Van | Chevy Express 1500 Van Rear Differential Cover with Gasket V8 5.0L |
| 1996-2002 | Chevy | Express 1500 Van | Chevy Express 1500 Van Rear Differential Cover with Gasket V8 5.7L |
| 2003-2006 | Chevy | Express 1500 Van | Chevy Express 1500 Van Rear Differential Cover with Gasket V8 5.3L |
| 1982-1985 | Chevy | Impala | Chevy Impala Rear Differential Cover with Gasket for Models with 8.5 or 8.625 Inch Ring Gear |
| 1994-1996 | Chevy | Impala | Chevy Impala Rear Differential Cover with Gasket for Models with 8.5 or 8.625 Inch Ring Gear |
| 1985-1986 | Chevy | K10 Truck | Chevy K10 Truck Rear Differential Cover with Gasket 8.5 Inch Ring Gear |
| 1988-1999 | Chevy | K1500 Truck | Chevy K1500 Truck Rear Differential Cover with Gasket for Models with 8.5 Inch Ring Gear |
| 1985-1986 | Chevy | K20 Truck | Chevy K20 Truck Rear Differential Cover with Gasket 8.5 Inch Ring Gear |
| 1985-1986 | Chevy | K30 Truck | Chevy K30 Truck Rear Differential Cover with Gasket 8.5 Inch Ring Gear |
| 1987 | Chevy | R1500 Truck | Chevy R1500 Truck Rear Differential Cover with Gasket for Models with 8.5 or 8.625 Inch Ring Gear |
| 1994-2004 | Chevy | S10 Pickup | Chevy S10 Pickup Rear Differential Cover with Gasket for Models with 8.5 or 8.625 Inch Ring Gear |
| 1999-2005 | Chevy | Silverado 1500 | Chevy Silverado 1500 Rear Differential Cover with Gasket for Models with 8.5 or 8.625 Inch Ring Gear |
| 2002-2005 | Chevy | Suburban 1500 | Chevy Suburban 1500 Rear Differential Cover with Gasket for Models with 8.5 or 8.625 Inch Ring Gear |
| 1992-1999 | Chevy | Suburban C1500 | Chevy Suburban C1500 Rear Differential Cover with Gasket for Models with 8.5 Inch Ring Gear |
| 1992-1999 | Chevy | Suburban K1500 | Chevy Suburban K1500 Rear Differential Cover with Gasket for Models with 8.5 Inch Ring Gear |
| 1995-1999 | Chevy | Tahoe | Chevy Tahoe Rear Differential Cover with Gasket for Models with 8.5 Inch Ring Gear |
| 2000-2005 | Chevy | Tahoe | Chevy Tahoe Rear Differential Cover with Gasket for Models with 8.5 or 8.625 Inch Ring Gear |
| 1987 | Chevy | V1500 Truck | Chevy V1500 Truck Rear Differential Cover with Gasket for Models with 8.5 or 8.625 Inch Ring Gear |
| 1985-1993 | Chevy | Van G-Series | Chevy Van G-Series Rear Differential Cover with Gasket V8 5.7L |
| 1985-1993 | Chevy | Van G-Series | Chevy Van G-Series Rear Differential Cover with Gasket V8 6.2L |
| 1985-1995 | Chevy | Van G-Series | Chevy Van G-Series Rear Differential Cover with Gasket V6 4.3L |
| 1985-1995 | Chevy | Van G-Series | Chevy Van G-Series Rear Differential Cover with Gasket V8 5.0L |
| 1994-1995 | Chevy | Van G-Series | Chevy Van G-Series Rear Differential Cover with Gasket V8 6.5L |
| 1985-1986 | GMC | C1500 Truck | GMC C1500 Truck Rear Differential Cover with Gasket for Models with 8.5 Inch Ring Gear |
| 1988-1999 | GMC | C1500 Truck | GMC C1500 Truck Rear Differential Cover with Gasket for Models with 8.5 Inch Ring Gear |
| 1998-2000 | GMC | Envoy | GMC Envoy Rear Differential Cover with Gasket for Models with 8.5 or 8.625 Inch Ring Gear |
| 1985-1991 | GMC | Jimmy Full Size | GMC Jimmy Full Size Rear Differential Cover with Gasket for Models with 8.5 Inch Ring Gear |
| 1994-2001 | GMC | Jimmy S-15 | GMC Jimmy S-15 Rear Differential Cover with Gasket |
| 1985-1986 | GMC | K1500 Truck | GMC K1500 Truck Rear Differential Cover with Gasket |
| 1988-1999 | GMC | K1500 Truck | GMC K1500 Truck Rear Differential Cover with Gasket |
| 1987 | GMC | R1500 Truck | GMC R1500 Truck Rear Differential Cover with Gasket for Models with 8.5 Inch Ring Gear |
| 1987 | GMC | R2500 Truck | GMC R2500 Truck Rear Differential Cover with Gasket for Models with 8.5 Inch Ring Gear |
| 1994-2004 | GMC | S-15 Sonoma | GMC S-15 Sonoma Rear Differential Cover with Gasket for Models with 8.5 or 8.625 Inch Ring Gear |
| 1996-2006 | GMC | Savana 1500 Van | GMC Savana 1500 Van Rear Differential Cover with Gasket V6 4.3L |
| 1996-2002 | GMC | Savana 1500 Van | GMC Savana 1500 Van Rear Differential Cover with Gasket V8 5.0L |
| 2003-2006 | GMC | Savana 1500 Van | GMC Savana 1500 Van Rear Differential Cover with Gasket V8 5.3L |
| 1999-2005 | GMC | Sierra 1500 | GMC Sierra 1500 Rear Differential Cover with Gasket for Models with 8.5 or 8.625 Inch Ring Gear |
| 2001 | GMC | Sierra 1500 | GMC Sierra 1500 Rear Differential Cover with Gasket for Models with 8.5 or 8.625 Inch Ring Gear |
| 1985-1986 | GMC | Suburban C1500 | 1985-86, 1992-99 GMC Suburban C1500 Rear Differential Cover with Gasket for Models with 8.5 or 8.625 Inch Ring Gear |
| 1992-1999 | GMC | Suburban C1500 | 1985-86, 1992-99 GMC Suburban C1500 Rear Differential Cover with Gasket for Models with 8.5 or 8.625 Inch Ring Gear |
| 1985-1986 | GMC | Suburban K1500 | 1985-86, 1992-99 GMC Suburban K1500 Rear Differential Cover with Gasket for Models with 8.5 or 8.625 Inch Ring Gear |
| 1992-1999 | GMC | Suburban K1500 | 1985-86, 1992-99 GMC Suburban K1500 Rear Differential Cover with Gasket for Models with 8.5 or 8.625 Inch Ring Gear |
| 1987 | GMC | V1500 Truck | GMC V1500 Truck Rear Differential Cover with Gasket for Models with 8.5 Inch Ring Gear |
| 1987 | GMC | V2500 Truck | GMC V2500 Truck Rear Differential Cover with Gasket for Models with 8.5 Inch Ring Gear |
| 1985-1994 | GMC | Van | GMC Van Rear Differential Cover with Gasket V8 5.0L |
| 1985-1993 | GMC | Van | GMC Van Rear Differential Cover with Gasket V8 6.2L |
| 1985-1993 | GMC | Van | GMC Van Rear Differential Cover with Gasket V8 5.7L |
| 1985-1995 | GMC | Van | GMC Van Rear Differential Cover with Gasket V8 5.7L |
| 1985-1995 | GMC | Van | GMC Van Rear Differential Cover with Gasket V8 5.0L |
| 1985-1995 | GMC | Van | GMC Van Rear Differential Cover with Gasket V6 4.3L |
| 1985-1995 | GMC | Van | GMC Van Rear Differential Cover with Gasket V6 4.3L |
| 1994-1995 | GMC | Van | GMC Van Rear Differential Cover with Gasket V8 6.5L |
| 2000-2005 | GMC | Yukon | GMC Yukon Rear Differential Cover with Gasket for Models with 8.5 or 8.625 Inch Ring Gear |
| 2000 | GMC | Yukon XL 1500 | GMC Yukon XL 1500 Rear Differential Cover with Gasket for Models with 8.5 or 8.625 Inch Ring Gear |
| 2000-2004 | GMC | Yukon XL 1500 | GMC Yukon XL 1500 Rear Differential Cover with Gasket for Models with 8.5 or 8.625 Inch Ring Gear |
| 2000 | GMC | Yukon XL 2500 | GMC Yukon XL 2500 Rear Differential Cover with Gasket for Models with 8.5 or 8.625 Inch Ring Gear |
| 2000-2004 | GMC | Yukon XL 2500 | GMC Yukon XL 2500 Rear Differential Cover with Gasket for Models with 8.5 or 8.625 Inch Ring Gear |
| 1982-1985 | Oldsmobile | 88 | Olds 88 Rear Differential Cover with Gasket for Models with 8.5 or 8.625 Inch Ring Gear |
| 1982-1984 | Oldsmobile | 98-Regency | Olds 98-Regency Rear Differential Cover with Gasket for Models with 8.5 or 8.625 Inch Ring Gear |
| 1994 | Oldsmobile | Bravada | Olds Bravada Rear Differential Cover with Gasket for Models with 8.5 or 8.625 Inch Ring Gear |
| 1996-2001 | Oldsmobile | Bravada | Olds Bravada Rear Differential Cover with Gasket for Models with 8.5 or 8.625 Inch Ring Gear |
| 1982-1992 | Oldsmobile | Custom Cruiser | Olds Custom Cruiser Rear Differential Cover with Gasket for Models with 8.5 or 8.625 Inch Ring Gear |
| 1985-1986 | Oldsmobile | Cutlass | Olds Cutlass Rear Differential Cover with Gasket for Models with 8.5 Inch Ring Gear |
| 1984 | Oldsmobile | Cutlass Calais | Olds Cutlass Calais Rear Differential Cover with Gasket for Models with 8.5 Inch Ring Gear |
| 1984-1987 | Oldsmobile | Cutlass Supreme RWD | Olds Cutlass Supreme RWD Rear Differential Cover with Gasket for Models with 8.5 Inch Ring Gear |
| 1982-1983 | Oldsmobile | Delta 88 | Olds Delta 88 Rear Differential Cover with Gasket for Models with 8.5 or 8.625 Inch Ring Gear |
| 1982-1985 | Oldsmobile | Delta 88-Royale | Olds Delta 88-Royale Rear Differential Cover with Gasket for Models with 8.5 or 8.625 Inch Ring Gear |
| 1983-1986 | Pontiac | Parisienne | Pontiac Parisienne Rear Differential Cover with Gasket for Models with 8.5 Inch Ring Gear |
| 1987-1989 | Pontiac | Safari | Pontiac Safari Rear Differential Cover with Gasket for Models with 8.5 Inch Ring Gear |
This part replaces:
OE # 26067595
Dorman 697-700
Part #: 1AADC00001
Order must be placed by 4pm ET
Get it in: 2 - 4 Business Days
Want it sooner? Choose Next Day Air at Checkout