1ATSU00014-Coolant Temperature Sensor
Replaces
Coolant Temperature Sensor - 1ATSU00014
1ATSU00014
This coolant temperature sensor is just what you need to get your vehicle running great again!
Specifications:
Brand New Coolant Temperature Sensor

Sends temperature readings to the ECM
Located in the radiator

2 Prong connection
Replaces dealer part numbers: 94847363, 94853124, 96062513, 96065716, 96068627, E32F12A648AA, E32F 12A648 AA, F32F12A648AA, F32F 12A648 AA, F32Z12A648A, F32Z 12A648 A, F42Z10884A, F42Z 10884 A, F42Z10884AA, F42Z 10884 AA, F4BZ12A648A, F4BZ 12A648 A, 91171786, 91175979, 94847363, 94853124, 96062513, 96065716, 96068627, LNA1600AA, LNA 1600 AA, MB59318840A, B3C818840, B3C 818840, B59318840A, B59 318840 A, MB59318840A, MB5 9318840 A, NF0218840, NF0 218840, 1797000110, 17970 00110, 22630KA020, 22630 KA020, 1365051G10, 13650 51G10, 1365057F00, 13650 57F00, 1365061B00, 13650 61B00, 1365071C00, 13650 71C00, 1797000140, 17970 00140, 1797000220, 17970 00220, 8942220010, 89422 20010, 8942233020, 894223 3020, 8942235010, 89422 35010
Direct Replacement
Our electrical and electronic parts are subject to strict quality control testing. Please ensure proper diagnosis of this item before purchasing as the item cannot be returned once installed or plugged in.
Item Condition: New

Attention California Customers:
WARNING: Cancer and Reproductive Harm - www.P65Warnings.ca.gov.
Lifetime Warranty
This item is backed by a Limited Lifetime Warranty. In the event this item should fail due to manufacturing defects during intended use, we will exchange the part free of charge (excludes shipping charges) for the original purchaser.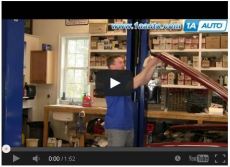 step : Removing the Coolant Temperature Sensor (1:43)

Have a drain pan ready
Push down on the connector and remove it from the sensor
Remove the sensor with a 19mm socket and ratchet

step : Installing the Coolant Temperature Sensor (2:27)

Quickly insert and tighten the sensor with a 19mm socket and ratchet
Reconnect the connector
Tools needed for replacement:
Ratchets & Related

Ratchet
Socket Extensions

Sockets - Metric

19mm Socket
Does Not Fit
While this part says it is a direct fit for a 2004 Toyota 4cyl. Highlander it screws in the location, but you cant put the plug wire back onto the black plastic part. I had to order another part from another company to get one that the plug wire would connect properly to. Get the part with the white plastic.
Customer Q&A
Ask a question to 1A Auto customers who purchased the product
What is the difference between this and the more expensive coolant temperature sensor?
Dont know, but I put this one in and it works fine. This is a pretty basic part. Just be sure to get the one that fits your vehicle. Its easy to put in as well.
The difference is the more expensive product is a WELLS name branded product. The lesser priced unit is our 1A Auto branded part. Both have a lifetime warranty
Brian F
December 15, 2016
| Year | Make | Model | Description |
| --- | --- | --- | --- |
| 1998 | Chevy | Tracker | Chevy Tracker Coolant Temperature Sensor L4 1.6L |
| 1994-1997 | Ford | Aspire | Ford Aspire Coolant Temperature Sensor L4 1.3L |
| 1993-1997 | Ford | Probe | Ford Probe Coolant Temperature Sensor V6 2.5L |
| 1992-1996 | Geo | Metro | Geo Metro Coolant Temperature Sensor L4 1.3L |
| 1992-1996 | Geo | Metro | Geo Metro Coolant Temperature Sensor L3 1.0L |
| 1989-1997 | Geo | Prizm | Geo Prizm Coolant Temperature Sensor L4 1.6L |
| 1993-1997 | Geo | Prizm | Geo Prizm Coolant Temperature Sensor L4 1.8L |
| 1991-1997 | Geo | Tracker | Geo Tracker Coolant Temperature Sensor L4 1.6L |
| 2003 | Jaguar | S-Type | Jaguar S-Type Coolant Temperature Sensor V8 4.2L |
| 1999-2003 | Jaguar | Vanden Plas | Jaguar Vanden Plas Coolant Temperature Sensor V8 4.0L |
| 2004 | Jaguar | Vanden Plas | Jaguar Vanden Plas Coolant Temperature Sensor V8 4.2L |
| 2002-2004 | Jaguar | X-Type | Jaguar X-Type Coolant Temperature Sensor V6 3.0L |
| 2002-2004 | Jaguar | X-Type | Jaguar X-Type Coolant Temperature Sensor V6 2.5L |
| 1995-1996 | Jaguar | XJ12 | Jaguar XJ12 Coolant Temperature Sensor V12 6.0L |
| 1998-2003 | Jaguar | XJ8 | Jaguar XJ8 Coolant Temperature Sensor V8 4.0L |
| 2004 | Jaguar | XJ8 | Jaguar XJ8 Coolant Temperature Sensor V8 4.2L |
| 1995-2001 | Jaguar | XJR | Jaguar XJR Coolant Temperature Sensor V8 4.0L |
| 1997-2001 | Jaguar | XK8 | Jaguar XK8 Coolant Temperature Sensor V8 4.0L |
| 2001-2002 | Jaguar | XKR | Jaguar XKR Coolant Temperature Sensor V8 4.0L |
| 1996-1997 | Kia | Sephia | Kia Sephia Coolant Temperature Sensor L4 1.8L |
| 1996-1997 | Kia | Sephia | Kia Sephia Coolant Temperature Sensor L4 1.6L |
| 1990-1991 | Lexus | ES250 | Lexus ES250 Coolant Temperature Sensor V6 2.5L |
| 1992-2003 | Lexus | ES300 | Lexus ES300 Coolant Temperature Sensor V6 3.0L |
| 2004-2006 | Lexus | ES330 | Lexus ES330 Coolant Temperature Sensor V6 3.3L |
| 1993-1997 | Lexus | GS300 | Lexus GS300 Coolant Temperature Sensor L6 3.0L |
| 1990-1997 | Lexus | LS400 | Lexus LS400 Coolant Temperature Sensor V8 4.0L |
| 1996-1997 | Lexus | LX450 | Lexus LX450 Coolant Temperature Sensor V8 4.5L |
| 1998-1999 | Lexus | LX470 | Lexus LX470 Coolant Temperature Sensor V8 4.7L |
| 1999-2003 | Lexus | RX300 | Lexus RX300 Coolant Temperature Sensor V6 3.0L |
| 2004-2006 | Lexus | RX330 | Lexus RX330 Coolant Temperature Sensor V6 3.3L |
| 1992-2000 | Lexus | SC300 | Lexus SC300 Coolant Temperature Sensor L6 3.0L |
| 1992-2000 | Lexus | SC400 | Lexus SC400 Coolant Temperature Sensor V8 4.0L |
| 2011-2014 | Mazda | 2 | Mazda 2 Coolant Temperature Sensor L4 1.5L |
| 2011-2017 | Mazda | 3 | Mazda 3 Coolant Temperature Sensor L4 2.5L |
| 2011-2017 | Mazda | 3 | Mazda 3 Coolant Temperature Sensor L4 2.0L |
| 1993-1997 | Mazda | 626 | Mazda 626 Coolant Temperature Sensor L4 2.0L |
| 1993-1997 | Mazda | 626 | Mazda 626 Coolant Temperature Sensor V6 2.5L |
| 1992-1995 | Mazda | 929 | Mazda 929 Coolant Temperature Sensor V6 3.0L |
| 1993 | Mazda | B2200 Truck | Mazda B2200 Truck Coolant Temperature Sensor L4 2.2L |
| 1992-1998 | Mazda | MPV | Mazda MPV Coolant Temperature Sensor V6 3.0L |
| 1992-1995 | Mazda | MX-3 | Mazda MX-3 Coolant Temperature Sensor L4 1.8L |
| 1992-1995 | Mazda | MX-3 | Mazda MX-3 Coolant Temperature Sensor L4 1.6L |
| 1994-1997 | Mazda | Miata | Mazda Miata Coolant Temperature Sensor L4 1.8L |
| 1995-2002 | Mazda | Millenia | Mazda Millenia Coolant Temperature Sensor V6 2.3L Supercharged |
| 1995-2002 | Mazda | Millenia | Mazda Millenia Coolant Temperature Sensor V6 2.5L |
| 1995-2000 | Mazda | Protege | Mazda Protege Coolant Temperature Sensor L4 1.8L |
| 1995-1996 | Mazda | Protege | Mazda Protege Coolant Temperature Sensor L4 1.5L |
| 2000-2003 | Mazda | Protege | Mazda Protege Coolant Temperature Sensor L4 1.6L |
| 2000-2003 | Mazda | Protege | Mazda Protege Coolant Temperature Sensor L4 2.0L |
| 2003 | Mazda | Protege | Mazda Protege Coolant Temperature Sensor L4 2.0L Turbo |
| 2002-2003 | Mazda | Protege5 | Mazda Protege5 Coolant Temperature Sensor L4 2.0L |
| 1993-1995 | Mazda | RX-7 | Mazda RX-7 Coolant Temperature Sensor R2 1.3L Turbo |
| 2004-2011 | Mazda | RX-8 | Mazda RX-8 Coolant Temperature Sensor R2 1.3L |
| 2004-2006 | Pontiac | Vibe | Pontiac Vibe Coolant Temperature Sensor L4 1.8L |
| 1987-1988 | Sterling | 825 | Sterling 825 Coolant Temperature Sensor V6 2.5L |
| 1990-1994 | Subaru | Justy | Subaru Justy Coolant Temperature Sensor L3 1.2L |
| 1990-1995 | Suzuki | Samurai | Suzuki Samurai Coolant Temperature Sensor L4 1.3L |
| 1991-1998 | Suzuki | Sidekick | Suzuki Sidekick Coolant Temperature Sensor L4 1.6L |
| 1992-1996 | Suzuki | Swift | Suzuki Swift Coolant Temperature Sensor L4 1.3L |
| 1996-1998 | Suzuki | X-90 | Suzuki X-90 Coolant Temperature Sensor L4 1.6L |
| 1989-1995 | Toyota | 4Runner | Toyota 4Runner Coolant Temperature Sensor V6 3.0L |
| 1989-1995 | Toyota | 4Runner | Toyota 4Runner Coolant Temperature Sensor L4 2.4L |
| 1996-2002 | Toyota | 4Runner | Toyota 4Runner Coolant Temperature Sensor V6 3.4L |
| 1996-2000 | Toyota | 4Runner | Toyota 4Runner Coolant Temperature Sensor L4 2.7L |
| 2004 | Toyota | 4Runner | Toyota 4Runner Coolant Temperature Sensor V6 4.0L |
| 1995-2004 | Toyota | Avalon | Toyota Avalon Coolant Temperature Sensor V6 3.0L |
| 1989-1991 | Toyota | Camry | Toyota Camry Coolant Temperature Sensor L4 2.0L |
| 1989-1991 | Toyota | Camry | Toyota Camry Coolant Temperature Sensor V6 2.5L |
| 1992-2004 | Toyota | Camry | Toyota Camry Coolant Temperature Sensor L4 2.2L |
| 1992-2004 | Toyota | Camry | Toyota Camry Coolant Temperature Sensor V6 3.0L |
| 2004 | Toyota | Camry | Toyota Camry Coolant Temperature Sensor V6 3.3L |
| 1989 | Toyota | Celica | Toyota Celica Coolant Temperature Sensor L4 2.0L |
| 1989-1993 | Toyota | Celica | Toyota Celica Coolant Temperature Sensor L4 2.0L Turbo |
| 1990-1999 | Toyota | Celica | Toyota Celica Coolant Temperature Sensor L4 2.2L |
| 1990-1993 | Toyota | Celica | Toyota Celica Coolant Temperature Sensor L4 1.6L |
| 1995-1997 | Toyota | Celica | Toyota Celica Coolant Temperature Sensor L4 1.8L |
| 2000-2004 | Toyota | Celica | Toyota Celica Coolant Temperature Sensor L4 1.8L |
| 1989-1997 | Toyota | Corolla | Toyota Corolla Coolant Temperature Sensor L4 1.6L |
| 1995-1997 | Toyota | Corolla | Toyota Corolla Coolant Temperature Sensor L4 1.8L |
| 2002-2005 | Toyota | Corolla | Toyota Corolla Coolant Temperature Sensor L4 1.8L |
| 1989-1992 | Toyota | Cressida | Toyota Cressida Coolant Temperature Sensor L6 3.0L |
| 2001-2003 | Toyota | Highlander | Toyota Highlander Coolant Temperature Sensor V6 3.0L |
| 2001-2003 | Toyota | Highlander | Toyota Highlander Coolant Temperature Sensor L4 2.4L |
| 2004-2005 | Toyota | Highlander | Toyota Highlander Coolant Temperature Sensor V6 3.3L |
| 1989-1992 | Toyota | Land Cruiser | Toyota Land Cruiser Coolant Temperature Sensor L6 4.0L |
| 1993-1997 | Toyota | Land Cruiser | Toyota Land Cruiser Coolant Temperature Sensor L6 4.5L |
| 1998-2000 | Toyota | Land Cruiser | Toyota Land Cruiser Coolant Temperature Sensor V8 4.7L |
| 1989 | Toyota | MR2 | Toyota MR2 Coolant Temperature Sensor L4 1.6L |
| 1991-1995 | Toyota | MR2 | Toyota MR2 Coolant Temperature Sensor L4 2.2L |
| 1991-1995 | Toyota | MR2 | Toyota MR2 Coolant Temperature Sensor L4 2.0L Turbo |
| 2000-2004 | Toyota | MR2 Spyder | Toyota MR2 Spyder Coolant Temperature Sensor L4 1.8L |
| 2003-2005 | Toyota | Matrix | Toyota Matrix Coolant Temperature Sensor L4 1.8L |
| 1992-1996 | Toyota | Paseo | Toyota Paseo Coolant Temperature Sensor L4 1.5L |
| 1989-1995 | Toyota | Pickup | Toyota Pickup Coolant Temperature Sensor L4 2.4L |
| 1989-1995 | Toyota | Pickup | Toyota Pickup Coolant Temperature Sensor V6 3.0L |
| 1991-1997 | Toyota | Previa | Toyota Previa Coolant Temperature Sensor L4 2.4L |
| 2000-2003 | Toyota | Prius | Toyota Prius Coolant Temperature Sensor L4 1.5L |
| 1996-2003 | Toyota | Rav4 | Toyota Rav4 Coolant Temperature Sensor L4 2.0L |
| 1998-2003 | Toyota | Sienna | Toyota Sienna Coolant Temperature Sensor V6 3.0L |
| 2004-2005 | Toyota | Sienna | Toyota Sienna Coolant Temperature Sensor V6 3.3L |
| 1999-2003 | Toyota | Solara | Toyota Solara Coolant Temperature Sensor V6 3.0L |
| 1999-2001 | Toyota | Solara | Toyota Solara Coolant Temperature Sensor L4 2.2L |
| 1989-1998 | Toyota | Supra | Toyota Supra Coolant Temperature Sensor L6 3.0L Turbo |
| 1989-1998 | Toyota | Supra | Toyota Supra Coolant Temperature Sensor L6 3.0L |
| 1993-1994 | Toyota | T100 | Toyota T100 Coolant Temperature Sensor V6 3.0L |
| 1994-1998 | Toyota | T100 | Toyota T100 Coolant Temperature Sensor L4 2.7L |
| 1995-1998 | Toyota | T100 | Toyota T100 Coolant Temperature Sensor V6 3.4L |
| 1995-2004 | Toyota | Tacoma | Toyota Tacoma Coolant Temperature Sensor L4 2.4L |
| 1996-2004 | Toyota | Tacoma | Toyota Tacoma Coolant Temperature Sensor L4 2.7L |
| 1996-2004 | Toyota | Tacoma | Toyota Tacoma Coolant Temperature Sensor V6 3.4L |
| 1990-1997 | Toyota | Tercel | Toyota Tercel Coolant Temperature Sensor L4 1.5L |
| 2000-2002 | Toyota | Tundra | Toyota Tundra Coolant Temperature Sensor V8 4.7L |
| 2000-2004 | Toyota | Tundra | Toyota Tundra Coolant Temperature Sensor V6 3.4L |
Part #: 1ATSU00014
Order must be placed by 4pm ET
Get it in: 2 - 4 Business Days
Want it sooner? Choose Next Day Air at Checkout