How Do I Know If I Have Shocks or Struts?
Shocks and struts work with other suspension parts to maintain steady handling, ride level and safe braking. Basically, they make for a stable, comfortable ride rather than one that jolts you and your vehicle up and down while you drive.
There are a few differences that will help you know if your vehicle has shocks or struts.
Do I Have Shocks or Struts?
What Do Struts and Shocks Look Like?
One way to tell if you have shocks or struts is knowing what each kind of absorber looks like.
Rather than looking for coil springs on these parts to tell them apart, look at the bottom portion of the absorber.
If it is held in place by only one bolt, you'll know you have shocks and not struts. You'll also know you have a shock if your vehicle has an upper control arm.
If the bottom portion attaches directly to the steering knuckle, it's a strut. Another strut indicator is if the absorber is attached to a tie rod.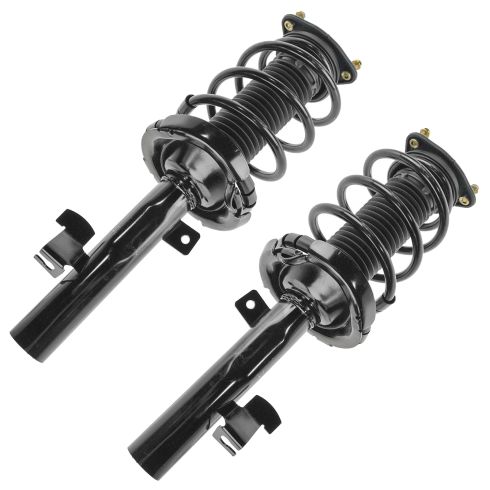 Pair of struts with coil springs
Loaded or Complete Strut Elements
You can also look for elements found in a loaded strut, also known as a complete strut or a strut and spring assembly. They include a strut mount, strut bearing, strut bumper, strut boot, coil spring, and a spring seat.
Why Shocks and Struts Are Not the Same
Appearance aside, what makes shocks and struts different from one another?
While shocks are not an integral part of a suspension system, if struts were removed from one, the vehicle's wheels would cave in and the vehicle would sink to the ground.
Struts are a structural necessity in suspensions, supporting a vehicle's weight, spring, and serving as a pivot point for its steering system. They essentially take the place of the upper control arms and upper ball joints in other suspension types.
When struts are used in the front of the vehicle, they also serve as an important part of the steering system as the pivot point for your wheels.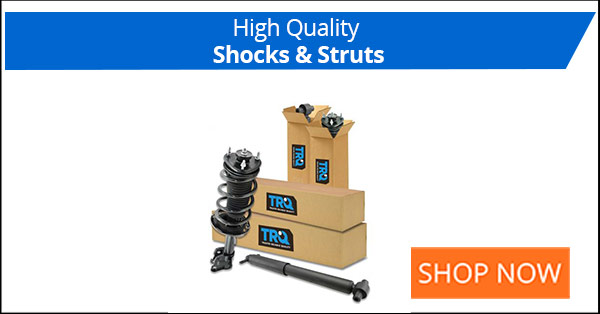 Need Help Replacing Shocks or Struts?
Watch these videos for help replacing front struts and rear shocks in a 2000-2006 Toyota Tundra:
How to Replace Front Struts 00-06 Toyota Tundra
How to Replace Rear Shocks 00-06 Toyota Tundra