GMFAC00001-Accelerator Pedal Pad
Replaces
Accelerator Pedal Pad General Motors OEM 15978096 - GMFAC00001
GMFAC00001
GM GAS PEDAL PAD: 15978096
Specifications:
Brand New OEM GM Gas Pedal Pad
Made from durable rubber
Has correct molded contour
Built to strict quality control standards
OEM Part
Genuine original equipment part (OEM) that was factory installed on your vehicle by the manufacturer.
Item Condition: New

Lifetime Warranty
This item is backed by a Limited Lifetime Warranty. In the event this item should fail due to manufacturing defects during intended use, we will exchange the part free of charge (excludes shipping charges) for the original purchaser.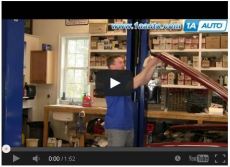 step : Removing the Brake Pedal Pad (0:20)

Remove the lock ring from the end of the pedal with a flat blade screwdriver
Unhook the spring from the arm
Remove the pedal

step : Installing the Brake Pedal Pad (1:01)

Line up the spring into its slot and press the pedal into place
Snap the hook of the spring onto the pedal shaft
Press the lock ring on
Tools needed for replacement:
Screwdrivers & Related

Flat Blade Screwdriver
retention washer
the pedal was fine but I think the a two cent spring retention washer should be provided. By the time you get the old one off it no longer has any tension to stay in place. I also had to make a minor modification to the brake pad to get it on. It wasnt a big deal but it wasnt exactly the original.
Customer Q&A
Ask a question to 1A Auto customers who purchased the product
No questions have been asked about this item.
| Year | Make | Model | Description |
| --- | --- | --- | --- |
| 1999 | Cadillac | Escalade | Cadillac Escalade Accelerator Pedal Pad General Motors OEM 15978096 |
| 1985-1994 | Chevy | Blazer Full Size | Chevy Blazer Full Size Accelerator Pedal Pad General Motors OEM 15978096 |
| 1985-1986 | Chevy | C10 Truck | Chevy C10 Truck Accelerator Pedal Pad General Motors OEM 15978096 |
| 1988-1999 | Chevy | C1500 Truck | Chevy C1500 Truck Accelerator Pedal Pad General Motors OEM 15978096 |
| 1985-1986 | Chevy | C20 Truck | Chevy C20 Truck Accelerator Pedal Pad General Motors OEM 15978096 |
| 1988-2000 | Chevy | C2500 Truck | Chevy C2500 Truck Accelerator Pedal Pad General Motors OEM 15978096 |
| 1985-1986 | Chevy | C30 Truck | Chevy C30 Truck Accelerator Pedal Pad General Motors OEM 15978096 |
| 1988-2002 | Chevy | C3500 Truck | Chevy C3500 Truck Accelerator Pedal Pad General Motors OEM 15978096 |
| 1985-1986 | Chevy | K10 Truck | Chevy K10 Truck Accelerator Pedal Pad General Motors OEM 15978096 |
| 1988-1999 | Chevy | K1500 Truck | Chevy K1500 Truck Accelerator Pedal Pad General Motors OEM 15978096 |
| 1985-1986 | Chevy | K20 Truck | Chevy K20 Truck Accelerator Pedal Pad General Motors OEM 15978096 |
| 1988-2000 | Chevy | K2500 Truck | Chevy K2500 Truck Accelerator Pedal Pad General Motors OEM 15978096 |
| 1985-1986 | Chevy | K30 Truck | Chevy K30 Truck Accelerator Pedal Pad General Motors OEM 15978096 |
| 1988-2000 | Chevy | K3500 Truck | Chevy K3500 Truck Accelerator Pedal Pad General Motors OEM 15978096 |
| 1987 | Chevy | R1500 Truck | Chevy R1500 Truck Accelerator Pedal Pad General Motors OEM 15978096 |
| 1987-1989 | Chevy | R2500 Truck | Chevy R2500 Truck Accelerator Pedal Pad General Motors OEM 15978096 |
| 1987-1991 | Chevy | R3500 Truck | Chevy R3500 Truck Accelerator Pedal Pad General Motors OEM 15978096 |
| 1985-1986 | Chevy | Suburban C10 | Chevy Suburban C10 Accelerator Pedal Pad General Motors OEM 15978096 |
| 1992-1999 | Chevy | Suburban C1500 | Chevy Suburban C1500 Accelerator Pedal Pad General Motors OEM 15978096 |
| 1985-1986 | Chevy | Suburban C20 | Chevy Suburban C20 Accelerator Pedal Pad General Motors OEM 15978096 |
| 1992-1999 | Chevy | Suburban C2500 | Chevy Suburban C2500 Accelerator Pedal Pad General Motors OEM 15978096 |
| 1985-1986 | Chevy | Suburban K10 | Chevy Suburban K10 Accelerator Pedal Pad General Motors OEM 15978096 |
| 1992-1999 | Chevy | Suburban K1500 | Chevy Suburban K1500 Accelerator Pedal Pad General Motors OEM 15978096 |
| 1985-1986 | Chevy | Suburban K20 | Chevy Suburban K20 Accelerator Pedal Pad General Motors OEM 15978096 |
| 1992-1999 | Chevy | Suburban K2500 | Chevy Suburban K2500 Accelerator Pedal Pad General Motors OEM 15978096 |
| 1987-1988 | Chevy | Suburban R10 | Chevy Suburban R10 Accelerator Pedal Pad General Motors OEM 15978096 |
| 1989-1991 | Chevy | Suburban R1500 | Chevy Suburban R1500 Accelerator Pedal Pad General Motors OEM 15978096 |
| 1987-1988 | Chevy | Suburban R20 | Chevy Suburban R20 Accelerator Pedal Pad General Motors OEM 15978096 |
| 1989-1991 | Chevy | Suburban R2500 | Chevy Suburban R2500 Accelerator Pedal Pad General Motors OEM 15978096 |
| 1987-1988 | Chevy | Suburban V10 | Chevy Suburban V10 Accelerator Pedal Pad General Motors OEM 15978096 |
| 1989-1991 | Chevy | Suburban V1500 | Chevy Suburban V1500 Accelerator Pedal Pad General Motors OEM 15978096 |
| 1987-1988 | Chevy | Suburban V20 | Chevy Suburban V20 Accelerator Pedal Pad General Motors OEM 15978096 |
| 1989-1991 | Chevy | Suburban V2500 | Chevy Suburban V2500 Accelerator Pedal Pad General Motors OEM 15978096 |
| 1995-1999 | Chevy | Tahoe | Chevy Tahoe Accelerator Pedal Pad General Motors OEM 15978096 |
| 2000 | Chevy | Tahoe | Chevy Tahoe Accelerator Pedal Pad V8 5.7L General Motors OEM 15978096 |
| 1987 | Chevy | V1500 Truck | Chevy V1500 Truck Accelerator Pedal Pad General Motors OEM 15978096 |
| 1987-1989 | Chevy | V2500 Truck | Chevy V2500 Truck Accelerator Pedal Pad General Motors OEM 15978096 |
| 1987-1991 | Chevy | V3500 Truck | Chevy V3500 Truck Accelerator Pedal Pad General Motors OEM 15978096 |
| 1985-1986 | GMC | C1500 Truck | GMC C1500 Truck Accelerator Pedal Pad General Motors OEM 15978096 |
| 1988-1999 | GMC | C1500 Truck | GMC C1500 Truck Accelerator Pedal Pad General Motors OEM 15978096 |
| 1985-1986 | GMC | C2500 Truck | GMC C2500 Truck Accelerator Pedal Pad General Motors OEM 15978096 |
| 1988-2000 | GMC | C2500 Truck | GMC C2500 Truck Accelerator Pedal Pad General Motors OEM 15978096 |
| 1985-1986 | GMC | C3500 Truck | GMC C3500 Truck Accelerator Pedal Pad General Motors OEM 15978096 |
| 1988-2002 | GMC | C3500 Truck | GMC C3500 Truck Accelerator Pedal Pad General Motors OEM 15978096 |
| 1985-1986 | GMC | K1500 Truck | GMC K1500 Truck Accelerator Pedal Pad General Motors OEM 15978096 |
| 1988-1999 | GMC | K1500 Truck | GMC K1500 Truck Accelerator Pedal Pad General Motors OEM 15978096 |
| 1985-1986 | GMC | K2500 Truck | GMC K2500 Truck Accelerator Pedal Pad General Motors OEM 15978096 |
| 1988-2000 | GMC | K2500 Truck | GMC K2500 Truck Accelerator Pedal Pad General Motors OEM 15978096 |
| 1988-2000 | GMC | K2500 Truck | GMC K2500 Truck Accelerator Pedal Pad General Motors OEM 15978096 |
| 1985-1986 | GMC | K3500 Truck | GMC K3500 Truck Accelerator Pedal Pad General Motors OEM 15978096 |
| 1988-2000 | GMC | K3500 Truck | GMC K3500 Truck Accelerator Pedal Pad General Motors OEM 15978096 |
| 1987 | GMC | R1500 Truck | GMC R1500 Truck Accelerator Pedal Pad General Motors OEM 15978096 |
| 1987-1989 | GMC | R2500 Truck | GMC R2500 Truck Accelerator Pedal Pad General Motors OEM 15978096 |
| 1987-1991 | GMC | R3500 Truck | GMC R3500 Truck Accelerator Pedal Pad General Motors OEM 15978096 |
| 1985-1986 | GMC | Suburban C1500 | GMC Suburban C1500 Accelerator Pedal Pad General Motors OEM 15978096 |
| 1992-1999 | GMC | Suburban C1500 | GMC Suburban C1500 Accelerator Pedal Pad General Motors OEM 15978096 |
| 1985-1986 | GMC | Suburban C2500 | GMC Suburban C2500 Accelerator Pedal Pad General Motors OEM 15978096 |
| 1992-1999 | GMC | Suburban C2500 | GMC Suburban C2500 Accelerator Pedal Pad General Motors OEM 15978096 |
| 1985-1986 | GMC | Suburban K1500 | GMC Suburban K1500 Accelerator Pedal Pad General Motors OEM 15978096 |
| 1992-1999 | GMC | Suburban K1500 | GMC Suburban K1500 Accelerator Pedal Pad General Motors OEM 15978096 |
| 1985-1986 | GMC | Suburban K2500 | GMC Suburban K2500 Accelerator Pedal Pad General Motors OEM 15978096 |
| 1992-1999 | GMC | Suburban K2500 | GMC Suburban K2500 Accelerator Pedal Pad General Motors OEM 15978096 |
| 1987-1991 | GMC | Suburban R1500 | GMC Suburban R1500 Accelerator Pedal Pad General Motors OEM 15978096 |
| 1987-1991 | GMC | Suburban R2500 | GMC Suburban R2500 Accelerator Pedal Pad General Motors OEM 15978096 |
| 1987-1991 | GMC | Suburban V1500 | GMC Suburban V1500 Accelerator Pedal Pad General Motors OEM 15978096 |
| 1987-1991 | GMC | Suburban V2500 | GMC Suburban V2500 Accelerator Pedal Pad General Motors OEM 15978096 |
| 1987 | GMC | V1500 Truck | GMC V1500 Truck Accelerator Pedal Pad General Motors OEM 15978096 |
| 1987-1989 | GMC | V2500 Truck | GMC V2500 Truck Accelerator Pedal Pad General Motors OEM 15978096 |
| 1987-1991 | GMC | V3500 Truck | GMC V3500 Truck Accelerator Pedal Pad General Motors OEM 15978096 |
| 1992-1999 | GMC | Yukon | GMC Yukon Accelerator Pedal Pad General Motors OEM 15978096 |
| 2000 | GMC | Yukon | GMC Yukon Denali Accelerator Pedal Pad General Motors OEM 15978096 |
Part #: GMFAC00001
Order must be placed by 4pm ET
Get it in: 2 - 4 Business Days
Want it sooner? Choose Next Day Air at Checkout
Brand #: 15978096