Highest Ratings

Quality: We've got the awards to prove it!

We've won the Bizrate Circle of Excellence award,

7 years in a row. Rated outstanding for quality, satisfaction, service, and on time delivery. 1A Auto selects the highest quality parts from the best manufacturers.

Check our excellent ratings

.

Fastest Shipping

No-Hassle Returns

USA Support Techs

Best Value

Our Guarantee
Customer Feedback

I was searching E-Bay 4 weathe...
Chevy S10 Blazer
Carl
Click here to try out our new site!
American Motors EGR Valve
Choose Your American Motors Model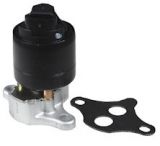 What is an
EGR Valve

and where is it Located?

The exhaust gas recirculation valve - EGR valve for short - in your vehicle is a critical part of the emission reduction system. Most commonly located on the intake manifold, the EGR valve uses vacuum from the induction system or a signal from the vehicle's computer to open a passage and allow the engine's exhaust gasses to be reintroduced back into the engine, combined with incoming air / fuel mixture. These exhaust gasses reduce the temperature of the combustion, which results in the reduction of harmful nitrogen oxide (NOx) emissions being released into the environment.
EGR Valve Failure

EGR valves can fail by becoming stuck open, allowing for too much exhaust gas to enter the intake; or by being stuck closed, preventing or limiting the amount of exhaust gas to enter the intake. When an EGR valve is stuck in the open position it may result in rough idle, decreased engine performance and increased fuel consumption due to the fact that your vehicle is not burning and using the fuel that is available to burn and use. When an EGR valve is stuck in the closed position it may result in increased NOx emissions and pre-ignition (knock). Failure of any other component of the EGR system such as the EGR pressure sensor or a cracked vacuum line may also result in an inoperative EGR valve. OBDII Check Engine Codes related to EGR valves include:
P0400 - EGR Flow Malfunction
P0401 - Insufficient EGR Flow
P0402 - Excessive EGR Flow
P0403 - EGR Circuit Malfunction
P0404 - EGR Circuit Range / Performance
P0405 - EGR Sensor A Circuit Low
P0406 - EGR Sensor A Circuit High
P0407 - EGR Sensor B Circuit Low
P0408 - EGR Sensor B Circuit High
Need an EGR Valve Replacement?
Having a properly functioning exhaust gas recirculation (EGR) valve in order to reduce nitrogen oxide emissions is important not only to being able to pass several state emissions tests, but also to being a caring driver to those around you and to the environment. If yours has failed and you need an EGR valve replacement, then you have to the right place. Replacement EGR valves from 1A Auto are made to the same specifications as the originals. They will fit and function with no hassle and come with the EGR gasket.
At 1A Auto, shopping for an EGR valve replacement for your car, truck, SUV or van is easy - we're here to help you select the right one for your vehicle! Call our customer service toll free at 888-844-3393 if you have any questions about the product, warranty, compatibility or to purchase, or you can buy online right here at 1AAuto.com. Whether your car or truck needs a new exhaust gas recirculation valve or you are performing preventative maintenance, purchase a new one from 1A Auto today.
For more than 50 years, the Green family has been installing and using the same high quality auto parts that you'll find on our website. We actually use the parts we sell, and we've been selling online since 1999. Our company's mission is to
make your car projects go smoothly
, and to become your trusted source for auto parts. To this end, we treat our customers like family.
We employ USA based, knowledgeable support technicians. They'll help you through your project. We always make sure you get the right part. And we boast the industry's most generous returns policy. You won't find a company more passionate about auto parts than 1A Auto.