Highest Ratings

Quality: We've got the awards to prove it!

We've won the Bizrate Circle of Excellence award,

7 years in a row. Rated outstanding for quality, satisfaction, service, and on time delivery. 1A Auto selects the highest quality parts from the best manufacturers.

Check our excellent ratings

.

Fastest Shipping

No-Hassle Returns

USA Support Techs

Best Value

Our Guarantee
Customer Feedback

I ordered weatherstrips for my...
Chevy Van
Don, Slippery Rock, PA
Click here to try out our new site!
Choose Your Oldsmobile Model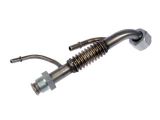 What is an EGR Tube and what does it do?
The EGR (Exhaust Gas Recirculation) valve takes a small amount of exhaust gas from the exhaust manifold and pushes it into the intake manifold to help with emissions. Depending on placement in the engine bay, the EGR may use an tube to properly reach between the intake and exaust manifolds.
What causes an EGR Tube to go bad?
There are a few different reasons to replace the EGR tube:
- Exhaust gasses can corrode the EGR pipe and cause an exhaust leak. This could result
in a check engine light for incorrect EGR flow
- Excessive carbon build up in the tube resulting in an insufficient flow OBDII code
- The EGR becomes stuck to the emissions tube and cannot be removed without
damaging the parts. This is often the result of rust, corrosion, or regular heat cycles
over a long period of time
Related Parts:
EGR Valve - This part is usually the first part checked when there's an SES light regarding the EGR system. Since it moves exhaust gases, it can build up with carbon and fail to open and close properly.
EGR Valve Temperature Sensor - The EGR Temp Sensor is one way a vehicle's PCM monitors the EGR system's operations. A bad sensor reading can cause the engine computer to incorrectly calculate spark and fuel.
Intake Manifold - Some of the newer plastic intake manifolds have experienced failure due to the heat of entering exhaust gases.
Exhaust Manifold - a crack or stripped threads at the EGR port of the exhaust manifold can result in a exhaust leak, "check engine" error codes, and failed emissions inspection.
At 1A Auto, we make shopping for a replacement EGR tube for your car, truck, SUV or van easy - we're here to help you select the right part for your vehicle! Call our customer service toll free at 888-844-3393 if you have any questions about our parts, warranty, compatibility or to purchase, or you can buy online.
For more than 50 years, the Green family has been installing and using the same high quality auto parts that you'll find on our website. We actually use the parts we sell, and we've been selling online since 1999. Our company's mission is to
make your car projects go smoothly
, and to become your trusted source for auto parts. To this end, we treat our customers like family.
We employ USA based, knowledgeable support technicians. They'll help you through your project. We always make sure you get the right part. And we boast the industry's most generous returns policy. You won't find a company more passionate about auto parts than 1A Auto.