Highest Ratings

Quality: We've got the awards to prove it!

We've won the Bizrate Circle of Excellence award,

7 years in a row. Rated outstanding for quality, satisfaction, service, and on time delivery. 1A Auto selects the highest quality parts from the best manufacturers.

Check our excellent ratings

.

Fastest Shipping

No-Hassle Returns

USA Support Techs

Best Value

Our Guarantee
Customer Feedback

When I ordered the Fog lamp fo...
Dodge Ram
John, Murietta, CA
Choose Your Kia Model
Catalytic Converter - Direct Fit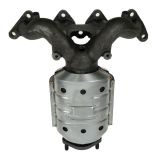 Direct Fit catalytic converters from 1A Auto are made from high quality 409 Grade stainless steel. Our catalytic converters are designed and warranted by the manufacturer to meet Federal Environmental Protection Agency requirements for 25,000 miles. They also carry a Limited Manufacturers Warranty against defects in material or workmanship for 5 Years or 50,000 miles, whichever comes first.
Is your vehicle over 5 years old, or have more than 50,000 miles? Did your vehicle fail an emissions test? Do you have a rattle in your exhaust? Have you been driving with an out of tune engine? If the answer to one or more of these questions is yes, you may need to replace your catalytic converter.
Our direct fit converters have the correct pipes, flanges and connections for easy removal and replacement of your catalytic converter. Our catalytic converters are also listed with four times more information than the competition, ensuring you get the right converter for your vehicle. 1A Auto also provides universal catalytic converters in addition to direct fits. If you are looking for a custom application check out our universal catalytic converter line.
Why do Catalytic Converters need to be replaced?
IMPROPERLY TUNED ENGINE: A number of problems could occur to as the result of an engine that is out of tune. Any time an engine is operating outside proper specifications, unnecessary wear and damage may be caused to the catalytic converter as well as the engine itself. The damage is often the result of an incorrect air/fuel mixture, incorrect timing, or misfiring spark plugs. Any of these conditions could lead to a catalytic converter failure or worse.
EXCESS FUEL ENTERING EXHAUST: The fuel that powers your vehicle is meant to burn in the combustion chamber only. Any fuel that leaves the combustion chamber unburned will enter the exhaust system and ignite when it reaches the catalytic converter. This can super-heat the converter far above normal operating conditions, and cause a melt down. Possible causes are an incorrect fuel mixture, incorrect timing, corroded spark plugs, a faulty oxygen sensor, sticking float, faulty fuel injector or a malfunctioning check valve.
OIL OR ANTI FREEZE ENTERING THE EXHAUST: Oil or antifreeze entering the exhaust system can block the air passages by creating a heavy carbon soot that coats the ceramic catalyst. These heavy carbon deposits create two problems. First, the carbon deposits prevent the catalytic converter from reducing harmful emission in the exhaust flow. Second, the carbon deposits clog the pores in the ceramic catalyst and block exhaust flow, increasing backpressure and causing heat and exhaust to back up into the engine compartment. Your engine may actually draw burnt exhaust gasses back into the combustion chamber and dilute the efficiency of the next burn cycle. The result is a loss of power and over-heated engine components. Possible causes are worn piston rings, faulty valve seals, failed gaskets or warped engine components.
DETERIORATED SPARK PLUGS OR SPARK PLUG WIRES: Spark plugs that don't fire or misfire cause unburned fuel to enter the exhaust system. The unburned fuel ignites inside the converter and could result in a partial or complete melt down of the ceramic catalyst. Spark plugs and spark plug wires should be checked regularly and replaced if damaged or if wires are worn or cracked.
OXYGEN SENSOR NOT FUNCTIONING PROPERLY: Oxygen sensor failure can lead to incorrect readings of exhaust gasses. The faulty sensor can cause a too-rich or too-lean condition. Too rich and the catalyst can melt down. Too lean and the converter is unable to convert the hydrocarbons into safe elements and may not pass a state inspection.
ROAD DAMAGE OR BROKEN HANGERS: The ceramic catalyst inside a catalytic converter is made from a lightweight, thin-walled, fragile material. It is protected by a dense, insulating mat. This mat holds the catalyst in place and provides moderate protection against damage. However, rock or road debris striking the converter or broken exhaust system support can cause a catalyst fracture. Once the ceramic catalyst is fractured, the broken pieces become loose and rattle around and break up into smaller pieces. Flow is interrupted and back pressure in the exhaust system increases. This leads to heat build up and loss of power. Possible causes of a catalyst fracture include road debris striking the converter, loose or broken hangers, potholes or off-road driving.
At 1A Auto, we make shopping for a replacement direct fit catalytic converter for your car, truck, SUV or van easy - we're here to help you select the right part for your vehicle! Call our customer service toll free at 888-844-3393 if you have any questions about our direct fit catalytic converters, warranty, compatibility or to purchase, or you can buy online.
Frequently Asked Questions About Catalytic Converters:
What is a Catalytic Converter?
During the 1970's, the EPA introduced a series of regulations aimed at reducing hazardous emissions from cars. All automobiles driven in the US and built after 1975 must be equipped with a catalytic converter. A catalytic converter is part of your exhaust system and is responsible for reducing poisonous Carbon Monoxide, Nitrogen Oxides, and carcinogenic partially combusted fuel. Inside the converter is usually a precious metal such as platinum, which reacts with the gasses and converts them to harmless Nitrogen, Oxygen, Water, and Carbon Dioxide. Without a working catalytic converter, your vehicle will pollute the environment, fail inspection, and be unable to drive legally.
How do you know if your catalytic converter needs replacement?
Generally, failing an emissions test is a good indicator of a potential catalytic converter issue. Holes or rattling in the converter are also good signs you may need a replacement.
Why Buy a 1A Catalytic Converter?
1A Auto Catalytic converters are save you up to 30-50% over new OEM replacement parts. Our Converters are designed to exact specifications ensuring proper fit and constructed from top materials including 409 stainless steel. Each converter comes with a warrantee guaranteeing it will pass EPA emissions standards for 25,000 miles. In stock parts come backed with the industry's only 'No Hassle' return policy.
Can I replace my Catalytic Converter by myself?
That depends on whether you have the necessary equipment and mechanical skill for the job. First you'll have to raise the vehicle. Then depending on whether you exhaust system has been modified or replaced, you may have to do some cutting and welding.
If your catalytic converter is only connected by bolts, then it's a simple job. Lubricate and unhook the clamps, remove the converter (a hammer may help with this,) and insert the new converter. A patch piece may be needed to prevent leaks, or you could weld the connection closed.
If the catalytic converter is welded on, then obviously you'll have to do some cutting to remove the old. Be aware of wiring and fuel lines when working. This is more difficult and can be dangerous, do so at your own risk.
For more than 50 years, the Green family has been installing and using the same high quality auto parts that you'll find on our website. We actually use the parts we sell, and we've been selling online since 1999. Our company's mission is to
make your car projects go smoothly
, and to become your trusted source for auto parts. To this end, we treat our customers like family.
We employ USA based, knowledgeable support technicians. They'll help you through your project. We always make sure you get the right part. And we boast the industry's most generous returns policy. You won't find a company more passionate about auto parts than 1A Auto.