Highest Ratings

Quality: We've got the awards to prove it!

We've won the Bizrate Circle of Excellence award,

7 years in a row. Rated outstanding for quality, satisfaction, service, and on time delivery. 1A Auto selects the highest quality parts from the best manufacturers.

Check our excellent ratings

.

Fastest Shipping

No-Hassle Returns

USA Support Techs

Best Value

Our Guarantee
Customer Feedback

I own a 1999 Daewoo Leganza. M...
Daewoo Leganza
Massimo, San Diego, CA
Click here to try out our new site!
Choose Your Dodge Model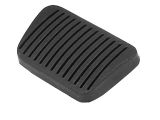 What is a Brake Pedal Pad and where is it Located?
The brake pedal pad – also referred to as a brake pedal cover - is a grooved rubber cover that is located on the surface of a vehicle's brake pedal. It ensures that you get a good grip on the pedal with your foot when tapping the brakes. This allows you to be confident that you can stop your vehicle whenever the need arises. If your vehicle uses a foot pedal to engage the emergency brake, then you may also have a rubber cover for the emergency brake pedal as well.
How do I Know if my Brake Pedal Pad Needs to be Replaced?
The rubber that makes up the brake pedal pad can get worn down over time, especially with frequent or aggressive braking. The grooved surface may wear down, or the cover may become loose. Either way, your grip on the pedal and your control of the vehicle suffer. If the pedal comes off (or is removed) completely, the bare metal pedal can be extremely slippery, especially when wet. Since a slippery brake pedal poses a danger to yourself, your passengers, and other drivers, the condition of your brake pedal pad is a factor in many states' safety inspection regimes.
Can I Replace a Brake Pedal Pad Myself?
Replacing the brake pedal cover should be within the grasp of even the novice do-it-yourselfer. You just have to pull off the old pad (which should be easy enough if the pad is already loose) and stretch on the new one. Most pads should not require the use of any glue or fasteners to attach. If you are having trouble removing the old pad, it might help to pry it off with a flat head screwdriver. If you are having trouble stretching on the new cover, heating it with hot water may make it more pliable.
Need a Brake Pedal Pad Replacement?
When it comes to the brake pedal pad, good, quality padding is extremely crucial in order to avoid having your foot slip off the pedal when trying to apply your car or truck's brakes. So, if you are having this issue, or your pad is worn or missing, then you should seek out a brake pedal replacement as soon as possible in order to avoid any potential mishaps a failed pedal pad may cause. Thankfully, 1A Auto carries a large selection of aftermarket brake pedal pads for many makes and models, and at great prices.
At 1A Auto, we make shopping for a brake pedal pad replacement for your car, truck, SUV or van easy - we're here to help you select the right part for your vehicle! Call our customer service toll free at 888-844-3393 if you have any questions about our brake pedal covers, warranty, compatibility or to purchase, or you can buy online.
For more than 50 years, the Green family has been installing and using the same high quality auto parts that you'll find on our website. We actually use the parts we sell, and we've been selling online since 1999. Our company's mission is to
make your car projects go smoothly
, and to become your trusted source for auto parts. To this end, we treat our customers like family.
We employ USA based, knowledgeable support technicians. They'll help you through your project. We always make sure you get the right part. And we boast the industry's most generous returns policy. You won't find a company more passionate about auto parts than 1A Auto.