Highest Ratings

Quality: We've got the awards to prove it!

We've won the Bizrate Circle of Excellence award,

7 years in a row. Rated outstanding for quality, satisfaction, service, and on time delivery. 1A Auto selects the highest quality parts from the best manufacturers.

Check our excellent ratings

.

Fastest Shipping

No-Hassle Returns

USA Support Techs

Best Value

Our Guarantee
Customer Feedback

1A Auto is a great source for...
1976 Chevy Van
Don M.
Click here to try out our new site!
Choose Your Honda Model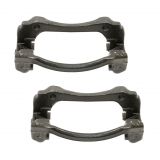 Brake calipers from 1A Auto are 100% brand new from the casting down to the bleeder screw! All of our calipers are updated with the latest technology to provide easy installation, great braking, and direct fit. For your convenience, 1A Auto carries a wide variety of calipers so finding the right part for the job is simple. If you are looking for the best selection, highest quality, search no more. Purchase your new brake calipers without the hassle of driving to the store and buy from 1A Auto today.
1A Auto Brake Caliper Features:
100% brand new, not rebuilt, brake caliper.
Zinc Chromate plated for extra corrosion resistance.
Detailed installation instructions.
At 1A Auto, we make shopping for replacement front and/or rear brake calipers for your car, truck, SUV or van easy - we're here to help you select the right part for your vehicle! Call our customer service toll free at 888-844-3393 if you have any questions about our disc brake calipers, warranty, compatibility or to purchase, or you can buy online. For more information about our brake caliper assemblies and brake calipers in general, please see below.
Can I install the brake caliper myself?
That depends on your automotive skill and the tools you have available. As the braking system is a vital part of your automobile, it's recommended you follow your repair manual.
General Tips:
Replace the calipers in pairs. However, dismantle only one side at a time in case you need to use the other side as a reference.
Replace the pads when you replace the calipers, both parts are inexpensive and if one fails, the other will probably fail soon after.
Tools you will probably need include? small hammer, vise grips, c-clamp, jack, jack stands, brake cleaner, brake fluid, and either hex or allen wrenches depending on your vehicle.
When you're done installing the caliper but before you put the wheel back on, be sure to press the brakes a few to ensure proper pressure. The first couple pumps may be weak as the piston is finding its new position, however it should become firmer with successive pumps.
How do I know if my brake caliper is not working properly?
Poor braking ability although your brake pads aren't worn may be indicative of a malfunctioning caliper. Shuddering or squealing while braking could also be symptoms of a failing caliper.
Do calipers include brake pads?
No, brake pads are not included with the purchase of the brake caliper. However, click here for 1A Auto brake pads.
For more than 50 years, the Green family has been installing and using the same high quality auto parts that you'll find on our website. We actually use the parts we sell, and we've been selling online since 1999. Our company's mission is to
make your car projects go smoothly
, and to become your trusted source for auto parts. To this end, we treat our customers like family.
We employ USA based, knowledgeable support technicians. They'll help you through your project. We always make sure you get the right part. And we boast the industry's most generous returns policy. You won't find a company more passionate about auto parts than 1A Auto.