Highest Ratings

Quality: We've got the awards to prove it!

We've won the Bizrate Circle of Excellence award,

7 years in a row. Rated outstanding for quality, satisfaction, service, and on time delivery. 1A Auto selects the highest quality parts from the best manufacturers.

Check our excellent ratings

.

Fastest Shipping

No-Hassle Returns

USA Support Techs

Best Value

Our Guarantee
Customer Feedback

I own a 1999 Daewoo Leganza. M...
Daewoo Leganza
Massimo, San Diego, CA
Click here to try out our new site!
Choose Your Volkswagen Model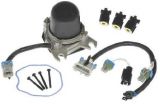 The AIR pump (Air Injection System Pump) or smog pump in your motor vehicle is a critical part of the emission reduction system. This A.I.R. pump is designed to pump in clean air and combine it with your engine's hot exhaust gas as it leaves the combustion chambers. The air injection pump is a critical piece of equipment that needs to be working properly in order to maintain proper emissions readings. The reason for the AIR pump system is because the hot exhaust gas by itself is not enough to complete the burning of the exhausted gas mixture. When the air pump system is working properly, it will allow the continued burning of the fuel mixture as it travels down the exhaust system and eventually out the tailpipe.
There are basically two ways how the actual air pump motor itself is powered.
- (1) Mechanical via a drive belt system
- (2) DC power via electric motor (sometimes used as secondary pumps)
1A currently is carrying the electrically DC powered AIR pump motors. These electric air pump motors are built to strict quality control standards and come with a limited lifetime warranty.
Symptoms of an electric AIR pump malfunction include:
- Poor Idle
- Service Engine Soon (SES) light illuminates
- Trouble code from a computer scan displays code P0410
- Increased Oxides of Nitrogen NOx emissions
- Corroded electric motor
- Failed vehicle emission test
- Frozen motor
It is possible to diagnose some AIR pump problems. Consult your vehicle's repair manual and follow all precautions when performing any type of diagnosis. Operating your vehicle on a public road with disabled emission equipment could violate the law.
Remember, a properly working AIR pump assembly results in both increased gas mileage and reduced Oxides of Nitrogen (NOx) emissions. So, whether your car or truck needs a new electric AIR pump or you are performing preventative maintenance, purchase a new AIR pump motor from 1A Auto today. Our AIR pump motors are made to the same specifications as the originals. They will fit and function with no hassle. They come with everything needed to change out the old motor.
At 1A Auto, we also make shopping for a replacement AIR pump for your car, truck, SUV or van easy - we're here to help you select the right part for your vehicle! Call our customer service toll free at 888-844-3393 if you have any questions about our smog pumps, warranty, compatibility or to purchase, or you can buy online.
For more than 50 years, the Green family has been installing and using the same high quality auto parts that you'll find on our website. We actually use the parts we sell, and we've been selling online since 1999. Our company's mission is to
make your car projects go smoothly
, and to become your trusted source for auto parts. To this end, we treat our customers like family.
We employ USA based, knowledgeable support technicians. They'll help you through your project. We always make sure you get the right part. And we boast the industry's most generous returns policy. You won't find a company more passionate about auto parts than 1A Auto.