Highest Ratings

Quality: We've got the awards to prove it!

We've won the Bizrate Circle of Excellence award,

7 years in a row. Rated outstanding for quality, satisfaction, service, and on time delivery. 1A Auto selects the highest quality parts from the best manufacturers.

Check our excellent ratings

.

Fastest Shipping

No-Hassle Returns

USA Support Techs

Best Value

Our Guarantee
Customer Feedback

I needed a boot cover for my 1...
Ford Galaxie
Jerry, Pascagoula, MS
Click here to try out our new site!
Volkswagen A/C Condenser Fan
Choose Your Volkswagen Model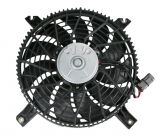 What is an
A/C Condenser Fan

and where is it Located?

Running the air conditioning system on your vehicle requires the need for additional air flow to help cool the A/ C condenser so it is able to do its job. Air conditioning condenser fans are secondary electric cooling fans that are normally activated when the air conditioning is turned on; in some applications it may be thermostatically controlled. These fans, also known as auxiliary and A/C cooling fans, can be located in various areas depending on the vehicle. While some cars and trucks have fans mounted to the A/C condenser itself, other vehicles may have an A/C condenser fan mounted right next to the main radiator cooling fan, either in front or behind the radiator.

An air conditioner condenser fan assembly is made up of an electric motor, several blades (the exact number varies depending on the application), and a shroud. When activated, the A/C condenser fan motor is what actually moves the fan blades which it does using the power that comes from the battery. The fan blades are what spin to push or pull in the air through the coils of the A/C condenser. The shroud is basically what "houses" everything; it holds together the A/C condenser fan motor and blades and directs the air through the fan.

So, how does it all work? Well, the gaseous refrigerant in your car or truck's A/C system is compressed by the A/C compressor. When gas is compressed it heats up and becomes highly pressurized. The A/C condenser fan, when activated, pulls / pushes air through the fins of the A/C condenser as the compressed coolant, which it has received from the compressor, passes through the coils inside of it in order to cool it down and eliminate heat from the system. After the refrigerant is cooled in the condenser, it expands once again. The process of re-expanding the refrigerant super cools it. The super cooled refrigerant is then plumbed through the vents to cool the air in the cabin of the car or truck.
A/C Cooling Fan Failure
Just like electric radiator fans, A/C cooling fans are exposed to extreme heat on a regular basis. Over time, the A/C condenser fan motor can burn out. Oftentimes the bearings inside the fan motor will wear causing the fan blade to wobble, potentially causing it to make contact with and damage the shroud, condenser or radiator. Fan blades may also break, causing a lack of sufficient air flow being supplied to the condenser. Broken fan blades can also damage other parts of your A/C system.
Various components are involved in the A/C's operation, so just because the inside of your vehicle is getting little to no cool air does not mean that the problem lies with the A/C Condenser fan. There could be a problem with the A/C compressor or the condenser itself. After checking each A/C system component, if you find that the condenser fan is the problem, do a thorough inspection of it to determine if only a particular part of the fan assembly is defective, like the fan motor for example. If you can isolate the problem to a particular part of the A/C condenser fan assembly, then you can simply just replace that part. However, if you cannot isolate the problem, or just don't want to bother replacing a single part, then you will need to replace the entire A/C condenser fan assembly. A failed A/C cooling fan may also cause an overheating issue even when the main radiator fan is working properly due to insufficient airflow through the condenser and radiator. This can also damage other parts of your A/C system.
Need an A/C Condenser Fan Replacement?
Is a broken air conditioner condenser fan in your car or truck leaving you hot, sticky and miserable? Well, why sweat in discomfort when you don't have to? At 1A Auto, you will find a large selection of aftermarket A/C condenser fan assemblies for many makes and models, at great prices. Our A/C cooling fan assemblies are built to the highest quality control standards in the industry. They feature a new, not rebuilt, A/C condenser fan motor, geometrically designed blades for the optimal circulation you need, and a shroud designed to ensure structural integrity and endurance for maximum performance. The direct bolt on design (including proper plug) ensures an easy installation that other fan assemblies can't promise! If you are in need of a replacement A/C cooling fan for your car, truck, SUV or van, then you have certainly come to the right place.
Shopping for an aftermarket A/C cooling fan assembly replacement is also incredibly easy at 1A Auto - we're here to help you select the right part for your vehicle! Call our customer service toll free at 888-844-3393 if you have any questions about our fans, warranty, compatibility or to purchase, or you can buy online right here at 1aauto.com. Beat the heat by getting rid of the old and getting into the cold with a new A/C condenser fan assembly from 1A Auto today!
For more than 50 years, the Green family has been installing and using the same high quality auto parts that you'll find on our website. We actually use the parts we sell, and we've been selling online since 1999. Our company's mission is to
make your car projects go smoothly
, and to become your trusted source for auto parts. To this end, we treat our customers like family.
We employ USA based, knowledgeable support technicians. They'll help you through your project. We always make sure you get the right part. And we boast the industry's most generous returns policy. You won't find a company more passionate about auto parts than 1A Auto.