Highest Ratings

Quality: We've got the awards to prove it!

We've won the Bizrate Circle of Excellence award,

7 years in a row. Rated outstanding for quality, satisfaction, service, and on time delivery. 1A Auto selects the highest quality parts from the best manufacturers.

Check our excellent ratings

.

Fastest Shipping

No-Hassle Returns

USA Support Techs

Best Value

Our Guarantee
Customer Feedback

1A Auto is a great source for...
1976 Chevy Van
Don M.
Click here to try out our new site!
Choose Your GMC Model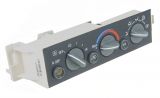 What are the A/C and Heater Controls and where are they Located?
The modern automobile has a number of features designed to make your ride as comfortable as possible. You may take these for granted (as long as they are working, that is), but without your heating and air conditioning, your ride to work would be a lot less pleasant. The heater and air conditioner themselves certainly do the brunt of the work in keeping your car's cabin at a comfortable temperature, but it's the heating controls that allow you to dial it in to that sweet spot. There are a number of parts that help out in the process.
The first and most obvious is the climate control unit on your dashboard, also commonly referred to as the temperature control panel. Here you can slide sliders, turn knobs, or push buttons (depending on your model) to set the desired temperature in the vehicle. Behind the dash is a series of ducts containing the various doors that control the flow of air into the cabin. Air passes past the evaporator core and the heater core to be warmed and cooled respectively. There, a blend door, which determines how much hot and cool air to mix. Some hot air is actually used when you turn the air conditioning on to evaporate moisture out of the air. This makes the air feel less muggy. The mode door directs the flow of the air. It pushes the air either through the windshield defroster vents, the dash vent, or the lower vent, pointed at the floor.
In some older models, the position of these doors was controlled by cables attached to the sliders on the dashboard temperature control panel. Moving the slider pulled the cable and moved the doors. If the cables broke you would lose control of the heating and A/C. If the cable became jammed or kinked, it could be very difficult to adjust the sliders. More recent models use digitally controlled blend door actuators. These contain electric motors which move the doors into their correct position. You may have two of some of these doors if your car has dual-zone climate control.
Another important component of you air conditioning and heating system is the blower motor. This is also controlled by the knobs or buttons on the climate control unit. When your heat or A/C is turned on, the blower motor is what forces the cold or warm air from your vehicle's A/C and / or heating system through the interior vents, circulating it inside throughout the cabin. If your heat or A/C is turned off, the blower motor is just hanging around doing nothing. Even if a vehicle is not equipped with an air conditioner system, it will still have a blower motor assembly in order to circulate the outside air inside of the cabin, in addition to the heat.
How do I Know if my A/C and Heater Controls Need to be Replaced?
Problems with the dash mounted climate control panel will be the easiest to diagnose. If your knobs are broken or missing, then you would do well to replace them. If the system doesn't respond to your inputs it could be a problem with the climate control panel.
Some problems may come from deeper inside the system, though. Like any intricate moving part, the door actuators can eventually wear out and stop working. If the blend door is not working properly, you may find that the hot air is not as hot as it used to be or the cool air is not as cool. Failure of the mode door is more obvious. It will generally leave the door stuck in one position so that air flows only out the windshield vents or only onto to the floor. Clicking noises behind the dash when you try to operate the heating or cooling systems can be a sign of failure in one of the blend door actuators.
As with all electrical motors, automotive blower motors can and will eventually fail as well. Here is some more detailed information about blower motor failure.
Can I Replace A/C and Heater Controls Myself?
Replacing the dash mounted controls should prove easy. You'll simply have to pry off the old controls, disconnect any wiring and install the new controls. Replacing the door actuators will take more work, but should be doable for the do-it-yourself mechanic. You will have to remove your dash panels, which may prove time-consuming, but otherwise, the task should be fairly straightforward.
Need Replacement A/C and Heater Controls?
If you're air conditioning and heating system controls aren't working as they should then you could be in for a long hot, day or a real big freeze on a bitterly cold morning. Say no to inoperative dials, broken knobs, busted faceplates, or inoperable actuators and shop at 1A Auto for replacement A/C and heating controls. At 1A Auto, we have a large selection of parts including blend doors and actuators, climate control units, knobs, motors, switches and more.
At 1A Auto, we make shopping for replacement A/C and heater controls for your car, truck, SUV or van easy - we're here to help you select the right part for your vehicle! Call our customer service toll free at 888-844-3393 if you have any questions about our air conditioning and heating control parts, warranty, compatibility or to purchase, or you can buy online.
For more than 50 years, the Green family has been installing and using the same high quality auto parts that you'll find on our website. We actually use the parts we sell, and we've been selling online since 1999. Our company's mission is to
make your car projects go smoothly
, and to become your trusted source for auto parts. To this end, we treat our customers like family.
We employ USA based, knowledgeable support technicians. They'll help you through your project. We always make sure you get the right part. And we boast the industry's most generous returns policy. You won't find a company more passionate about auto parts than 1A Auto.