Highest Ratings

Quality: We've got the awards to prove it!

We've won the Bizrate Circle of Excellence award,

7 years in a row. Rated outstanding for quality, satisfaction, service, and on time delivery. 1A Auto selects the highest quality parts from the best manufacturers.

Check our excellent ratings

.

Fastest Shipping

No-Hassle Returns

USA Support Techs

Best Value

Our Guarantee
Customer Feedback

1A Auto is a great source for...
1976 Chevy Van
Don M.
Click here to try out our new site!
Choose Your Cadillac Model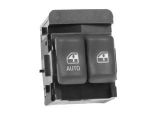 What is a
Power Window Switch

and where is it Located?

Your vehicle's power window switch is a main component to your power window system. Today, almost all vehicles are equipped with windows powered by the magic of electricity instead of windows that have to be operated manually with the use of crank handles. This makes raising and lowering windows as easy as pushing this switch. When engaged, the power window switch sends an electric current to the window motor, which is attached to the window regulator, activating it. In turn, the electric motor then powers a series of gears that lends motion to the linkage of the window regulator, which actually lifts the window glass up and down according to the direction that is indicated by the operation of the window switch.

Individual power window switches are found on the door panel armrests of each door, and they each control the movement of the window for the specific door they are located on. The master power window switch, which controls all of the windows in the vehicle, is commonly located on the driver side door panel armrest, but in some vehicles it is mounted on the center console.
Power Window Switch Failure

While typically quite durable and reliable, window switches are subject to general wear over time because of the fact that power windows are used so frequently, leading them to break. Excess moisture from leaving your car or truck's windows open may also cause the switch to become defective. Some symptoms of a bad power window switch include intermittent operation or, no operation of the power window from the switch at all.
Need a Replacement Power Window Switch?
Since the window switch is the only part that can start the process of moving your window and it won't work without a properly functioning switch, it is imperative that it is in tip top shape. If you are in need of an aftermarket replacement window switch, then you have come to the right place. At 1A Auto, we carry a large selection of aftermarket individual and master power window control switches for many makes and models. We also make shopping for a replacement for your car, truck, SUV or van easy - we're here to help you select the right one for your vehicle! Call our customer service toll free at 888-844-3393 if you have any questions about our window switches, warranty, compatibility or to purchase, or you can buy online. Order a power window switch from 1A Auto today and get your windows moving once again!
For more than 50 years, the Green family has been installing and using the same high quality auto parts that you'll find on our website. We actually use the parts we sell, and we've been selling online since 1999. Our company's mission is to
make your car projects go smoothly
, and to become your trusted source for auto parts. To this end, we treat our customers like family.
We employ USA based, knowledgeable support technicians. They'll help you through your project. We always make sure you get the right part. And we boast the industry's most generous returns policy. You won't find a company more passionate about auto parts than 1A Auto.