Highest Ratings

Quality: We've got the awards to prove it!

We've won the Bizrate Circle of Excellence award,

7 years in a row. Rated outstanding for quality, satisfaction, service, and on time delivery. 1A Auto selects the highest quality parts from the best manufacturers.

Check our excellent ratings

.

Fastest Shipping

No-Hassle Returns

USA Support Techs

Best Value

Our Guarantee
Customer Feedback

I have purchased all my weathe...
Chevrolet Camaro
Glen, Brooklyn, NY
Click here to try out our new site!
Choose Your Cadillac Model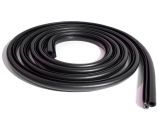 What is
Automotive Weatherstripping

and where is it Located?

Automotive weatherstripping, also commonly referred to as weatherstrips, weather seals, or just seals, plays a major role in sealing the inside of your vehicle and keeping it protected from all of the various outside elements like rain, snow, dirt, wind and other debris. Weatherstrips are made of a rubber material and seal all of the edges of your car or truck's doors, windows, windshield, trunk, hood, etc, so that nothing can enter the vehicle or get out through the gaps. They are most commonly held into place using one or a combination of these items, depending on the application: weatherstrip adhesive, clips, glue, screws and pressure.

There are many different types of weather seals available for automobiles these days and that's because, over the past 100 years, all kinds of makes and models have rolled off of the assembly lines. The type and location of weatherstripping on a vehicle is dependent on the particular make and model. Generally speaking, a car or truck will at the very least have door, window, windshield, roof, trunk / rear hatch / tailgate and some type of body weatherstripping. To learn more, here is an in-depth guide that provides details on most of the different types of weatherstripping you will find on cars and trucks these days.
When Are Replacement Weatherstrips Needed?
Replacing worn weatherstrips is crucial for everything from giving your classic car or truck that like new appearance, to keeping the interior of your daily driver dry. If your vehicle is suffering from excessive wind noise, rain leakage, or an abundance of outside elements finding their way into it, then replacement automotive weatherstripping is needed as soon as possible. You certainly do not want to be driving around during a rainstorm and have water dripping on your head, do you?
Need Replacement Weatherstripping?
If you need replacement automotive weatherstripping, there is no better place to shop than at 1A Auto. From windshield and window weatherstripping, to door weatherstripping and everything in between, we have aftermarket rubber weather seals for thousands of applications. If it is attached to your car or truck, we most likely carry it here at 1A Auto.
At 1A Auto, shopping for replacement weatherstripping is easy - we're here to help you select the right weather seals for your vehicle! We use these seals on our own cars and trucks, and we have absolute confidence in the fit, finish, and quality. However, if you have any questions about our aftermarket weatherstripping, warranty, compatibility or to purchase, please call our customer service toll free at 888-844-3393. You can also buy online right here at 1A Auto. So, don't let the weather ruin your day; order quality replacement weatherstripping for your vehicle today from 1A Auto and get back to driving comfortably for years to come! For additional information about our weatherstrips and automotive weatherstripping in general, please see our FAQ section below.
Frequently Asked Questions About Weatherstripping:
1. Will this weatherstrip fit my car or truck?
Yes! 1A Auto spends thousands of hours a year researching our manufacturers weatherstrips to ensure the seals will fit their specified vehicle. As long as your vehicle matches all of the specifications and options listed for each weatherstrip, 1A Auto guarantees a fit.
2. Does the weatherstrip come with hardware to install?
All but a few 1A Auto weatherstrips include the nylon or plastic clips that are used to attach them to the automobile. Some weatherstrips may use screws as well, however, weatherstrips we offer typically do not include these screws unless otherwise noted in the description. However, the original hardware can be reused or obtained locally. If you have any questions about what is included with 1A Auto weather seals, please contact our customer service toll free at 888-844-3393.
3. What is the per item warranty on these weatherstrips?
The warranty depends on the weatherstrip. Our weatherstrips include anywhere from a 2 to 30 year manufacturer's warranty depending on the part. The warranty covers the price of the item. If you have any warranty questions please contact our customer service toll free at 888-844-3393.
4. How do I know what weatherstrips I need?
Weatherstrips vary from vehicle to vehicle. Weatherstripping on older cars can be a bit more complicated than newer cars. Below is a list of common weatherstrip terminology and where they fit.
- Door Seals: There are 2 basic types of door seals, sedan or coupe door seals, and hardtop or
convertible seals. Sedan door seals usually attach to the door, or sometimes the door opening,
following along the whole perimeter of the door. If your car is a sedan it will have a metal frame all
the way around the side window glass. Unlike a sedan, hardtop and convertible cars do not have a
metal frame going all the way around the side glass. Hardtop and convertible door seals attach to the
doors and run along the sides and bottom edges of the door.

- Roofrail Seals: Roofrail seals are used only on hardtop and convertible models. On a hardtop car the
roofrail seals run up the windshield pillar, along the roofline all the way down to the bottom side of
the front or quarter side window. These weatherstrips seal the top of the side windows when they are
rolled all the way up. Convertible roofrail seals are also called convertible top seals. Convertible top
roofrail seals usually come in multiple pieces and attach to the sides of the convertible top frame.
These weatherstrips seal the top of the side windows when they are rolled all the way up.

- Windshield Seals: The windshield weatherstrip is the rubber seal that surrounds the entire windshield
glass in its entirety. Some vehicles have windshields that are glued to the car with the windshield
weatherstrip laid on top of it, while other vehicles need the windshield weatherstripping installed at the
same time as the windshield itself, which means it cannot be installed after the fact.

- Windshield Pillar Seals: Windshield pillar seals, also referred to as a-pillar seals, are usually only
found on some pre-1958 cars, almost all convertible models, and some Corvettes. The windshield
pillar seals attach to the windshield pillar and seal either the vent window glass frame, or front of the
side glass to the windshield pillar.

- Header Seals: Windshield or convertible top header seals are only found on convertible cars, or targa
top Corvette coupes. The windshield header seal usually attaches to the front edge of the convertible
top frame and seals the front of the convertible top to the top of the windshield frame.

- Window Sweeps: Window sweeps are also often called window felts, window seals, window whiskers, or
belt seals. Window sweeps attach on the outside to the top of the door and or quarter panel, and on
the inside to the top edge of the interior door panel. The window sweeps "sweep" against the glass
when the windows are rolled up or down, and help prevent water and debris from getting into the door
and or quarter panel.

- Window Channel Seals: Window channel seals, also referred to as window run channel seals, attach to
the insides of the door window frame. The door glass then rolls up into them.

- Hood to Cowl Seals: The hood to cowl seal attaches to the top of the firewall cowl, and seals the back
edge of the hood to the cowl when closed.

- Trunk Seals and Rear Hatch Seals: Trunk seals attach to the body of the car and seal the trunk lid to
the body. On a hatchback car the rear hatch seal also usually attaches to the body of the car and
seals the rear hatch when closed.
These are just some of the different types of common weatherstrips 1A Auto offers. Refer to 1A Auto's in-depth guide for additional information about the various types of weatherstrips found on vehicles. If you have any other weatherstriping questions you can also contact our customer service toll free at 888-844-3393.
5. Tips on how to replace a weatherstrip:
- Understand how your weatherstripping attaches.
- Take pictures of the original weatherstrips before you begin. If necessary, these pictures can be a
valuable resource after attaching the weatherstrips, while reassembling your vehicle.
- Weather seals will usually attach with screws, nylon, or plastic clips, weatherstrip adhesive, or any
combination of the above.
- Replace one side at a time. Most weatherstrips are replaced in pairs. Replacing one weatherstrip at a
time allows you to check how the original was attached, providing a valuable reference.
- With any weather seals that attach using adhesive, take the time to ensure all of the old adhesive
has been removed. This step ensures a good bond between your car and the new weatherstripping.
- Choose an appropriate work area and have patience.
- Make sure you have a large protected space to work in.
- Don't let yourself be rushed by the weather.
- Allow yourself plenty of time and don't hurry. A quality weatherstrip replacement can be a day long
project depending on the amount of weatherstripping replaced.
- Think it through. Don't rush yourself by starting the project at night if you need the car or truck the
following morning.
For more than 50 years, the Green family has been installing and using the same high quality auto parts that you'll find on our website. We actually use the parts we sell, and we've been selling online since 1999. Our company's mission is to
make your car projects go smoothly
, and to become your trusted source for auto parts. To this end, we treat our customers like family.
We employ USA based, knowledgeable support technicians. They'll help you through your project. We always make sure you get the right part. And we boast the industry's most generous returns policy. You won't find a company more passionate about auto parts than 1A Auto.