Highest Ratings

Quality: We've got the awards to prove it!

We've won the Bizrate Circle of Excellence award,

7 years in a row. Rated outstanding for quality, satisfaction, service, and on time delivery. 1A Auto selects the highest quality parts from the best manufacturers.

Check our excellent ratings

.

Fastest Shipping

No-Hassle Returns

USA Support Techs

Best Value

Our Guarantee
Customer Feedback

When I ordered the Fog lamp fo...
Dodge Ram
John, Murietta, CA
Click here to try out our new site!
Choose Your Cadillac Model
Transfer Case Shift Motors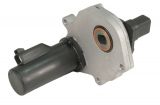 What is a Transfer Case Shift Motor and where is it Located?
The transfer case shift motor is a part of some vehicle's four-wheel drive (4WD) system and is responsible for switching between the vehicle's different two and four-wheel drive options. Four-wheel drive (commonly abbreviated to 4WD or referred to as 4-wheel drive) systems, as you may know already, allow the engine to drive all four wheels of a vehicle simultaneously, at the same speed. The benefit of this is that, by being able to drive four wheels instead of two, you have the ability to double the amount of force needed to make you go (torque) that the tires apply to the surface it is driving on. This enhances both traction and acceleration which is particularly useful in low-traction conditions where wheel slippage is much more likely to occur, such as off-roading, wet or snowy conditions, elevated terrain, or on dirt roads.
Found in 4x4 vehicles with a push-button activated 4WD system, the transfer case (also referred to as a transfer gearbox), which is attached to the transmission, does the brunt of the work in activating the 4WD system. The transfer case shift motor is a small electric motor that moves parts within the transfer case itself to activate the various modes of the 4WD system. Through gears or a chain, the transfer case connects the input from the transmission to the rear axle and front axle driveshafts. Since running the vehicle in 4WD all the time isn't necessary, as on dry pavement, etc., it's not easy for tires to slip, most 4WD vehicles run in rear wheel drive most of the time and can be switched into 4WD (engaging all four wheels) at the press of a button. In addition, running the vehicle in 4WD all the time reduces fuel mileage and is taxing on the various 4WD parts, and other parts like tires. The transfer case shift motor, located on the outside of the transfer case, moves the selector arms which mesh the gears to engage the front axle driveshaft or to engage a gear reduction for a special low-gear mode usually marked as 4LO on the dashboard 4WD switch.
How do I Know if my Transfer Case Motor Needs to be Replaced?
If the transfer case motor is not functioning, then you may find yourself unable to shift into or out of 4WD. This could be a big problem if the system fails to activate in an off-road or bad weather situation. In addition to shifting the transfer case, the motor also senses and reports the current position of the transfer case. In this function it is sometimes referred to as the transfer case encoder motor. If the transfer case fails to shift, you will receive some notification from your vehicle. You may have a 4WD dash light or lights on the buttons of your 4WD switch. These lights should flash if your transfer case fails to shift. A "service four wheel drive" light might also activate on the dashboard. These lights can activate, and the 4WD system can fail to engage for a number of reasons, so if you believe the problem is with the transfer case shift motor, you may want to bench test it before replacing the part.
The transfer case shift motor can fail for a number of reasons. Due to its location underneath the body of the vehicle, it can suffer corrosion from road salt or dirt (especially if you take the vehicle off road frequently). The motor can also get damaged from road debris, as well as simply wear out and over time.
Can I Replace a Transfer Case Shift Motor Myself?
Luckily, the transfer case shift motor is fairly easy to access and replacing it is within the reach of the do-it-yourselfer. You may have to remove the front driveshaft in order to access the shift motor. In order to remove the shift motor and install the new one, you'll need to get the transfer case shifted into its neutral position. You should be able to do this by turning the transfer case shift shaft with a crescent wrench. Other than that, you'll just need to disconnect the electrical connections, unbolt the old shift motor, and bolt on and reconnect the new one.
Need a Transfer Case Shift Motor Replacement?
If your 4x4 vehicle's transfer case motor is not functioning, then you may not be able to shift into or out of 4WD, which could be a big problem. Therefore, getting it replaced quickly is vital. If you are having problems with your 4WD not engaging because of a defective shift motor, then you have come to the right place! We carry a large selection of aftermarket transfer case motors for many makes and models, and at great prices, that are just what you need to get your vehicle's four-wheel drive system back to like new status!
At 1A Auto, we make shopping for a replacement 4WD transfer case motor for your car, truck, SUV or van easy - we're here to help you select the right part for your 4x4! Call our customer service toll free at 888-844-3393 if you have any questions about our transfer case motors, warranty, compatibility or to purchase, or you can buy online.
For more than 50 years, the Green family has been installing and using the same high quality auto parts that you'll find on our website. We actually use the parts we sell, and we've been selling online since 1999. Our company's mission is to
make your car projects go smoothly
, and to become your trusted source for auto parts. To this end, we treat our customers like family.
We employ USA based, knowledgeable support technicians. They'll help you through your project. We always make sure you get the right part. And we boast the industry's most generous returns policy. You won't find a company more passionate about auto parts than 1A Auto.