Highest Ratings

Quality: We've got the awards to prove it!

We've won the Bizrate Circle of Excellence award,

7 years in a row. Rated outstanding for quality, satisfaction, service, and on time delivery. 1A Auto selects the highest quality parts from the best manufacturers.

Check our excellent ratings

.

Fastest Shipping

No-Hassle Returns

USA Support Techs

Best Value

Our Guarantee
Customer Feedback

I found the replacement tailli...
Chevrolet C1500 SS454
Marshall, Midlothian, TX
Click here to try out our new site!
Choose Your Pontiac Model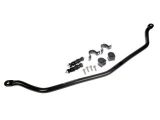 What is a
Sway Bar

and where is it Located?

Also known as an anti-roll bar, anti-sway bar or a stabilizer bar, the sway bar is part of the front (and rear on some vehicles) suspension and attaches between the right and left wheels. The main purpose of a sway bar is to reduce body roll and help distribute weight to all four wheels when going through a sharp turn at speed or over irregularities in the road. The sway bar is usually formed into a large "U" shape from either hollow or solid spring steel stock. The center of the bar is held in place to the vehicle's chassis by two frame mounted bushings (rubber or urethane) while the ends attach near the wheels of the car or truck (typically the control arm or strut) via the sway bar end link.
How do I Know if my Sway Bar Needs to be Replaced?
Sway bars are not usually considered a part that wears out on a vehicle. However, some poorly designed hollow factory stabilizer bars have been known to trap water inside and cause them to rust and break apart in which case, a sway bar replacement will be needed. The anti-sway bar end links are the most common failure point of this system. A broken end link may result in a clicking noise from the anti-roll bar tapping on other suspension parts. The steering may also feel a bit wobbly or loose, especially at quicker turns. As with most things rubber, the sway bar frame bushings can rot or wear out over time and cause the bar to move around.
Can I Replace a Sway Bar Myself?
Replacing an anti-sway bar link is a fairly simple job. Since they are located at the wheel, the end link can usually be replaced with basic hand tools once the vehicle has been put on jack stands and the wheel has been removed. Replacing the complete bar is a bit trickier, as it goes from wheel to wheel and may thread through multiple suspension parts. However, with basic tools and some patience, the stabilizer bar can be swapped out without professional help.
Need a Sway Bar Replacement?
Ensuring that your car or truck's sway bar is in tiptop condition is extremely important. Properly functioning anti-sway bars help to keep your vehicle balanced and prevent it from leaning excessively or rolling over completely while negotiating sharp corners or going over rough bumps. If it has failed, your vehicle will surely suffer from poor handling and steering and you'll be putting the safety of you and those around you at risk every time you drive. If you are in need of a sway bar replacement, then you have come to the right place! At 1A Auto, we carry a large selection of aftermarket sway bars for many makes and models, at great prices.
At 1A Auto, shopping for a replacement sway bar for your car, truck, SUV or van is easy - we're here to help you select the right parts for your vehicle! Call our customer service toll free at 888-844-3393 if you have any questions about our aftermarket sway bars, warranty, compatibility or to purchase, or you can buy online. Get back that original feel to your vehicle and order a replacement stabilizer bar from 1A Auto today!
For more than 50 years, the Green family has been installing and using the same high quality auto parts that you'll find on our website. We actually use the parts we sell, and we've been selling online since 1999. Our company's mission is to
make your car projects go smoothly
, and to become your trusted source for auto parts. To this end, we treat our customers like family.
We employ USA based, knowledgeable support technicians. They'll help you through your project. We always make sure you get the right part. And we boast the industry's most generous returns policy. You won't find a company more passionate about auto parts than 1A Auto.