Highest Ratings

Quality: We've got the awards to prove it!

We've won the Bizrate Circle of Excellence award,

7 years in a row. Rated outstanding for quality, satisfaction, service, and on time delivery. 1A Auto selects the highest quality parts from the best manufacturers.

Check our excellent ratings

.

Fastest Shipping

No-Hassle Returns

USA Support Techs

Best Value

Our Guarantee
Customer Feedback

I found the replacement tailli...
Chevrolet C1500 SS454
Marshall, Midlothian, TX
Click here to try out our new site!
Choose Your Jeep Model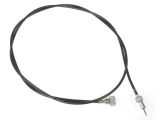 What is a Speedometer Cable and where is it Located?
A speedometer cable uses the magic of magnetism to convey the motion of your vehicles transmission to the speedometer on your dashboard to let you know how fast you're driving. Speedometer cables are part of a system called an eddy-current speedometer that was patented way back in 1902. Although many manufacturers have moved on to digital speedometers which use an electronic vehicle speed sensor, eddy-current speedometers were the norm into the mid-1990s.
The speedometer cable is a stiff but flexible metal cable that runs from an output gear on the transmission through the engine firewall and to the back of the speedometer. The output gear turns the speedometer cable. The cable has a magnet fixed to its end. This magnet is inside, but not touching, a metal cup called the speedcup. The speedcup is attached to the speedometer needle. As the magnet on the speedometer cable spins, it creates a magnetic field that turns the speedcup. The speedcup is resisted by a wire called a hairpin that holds the needle at 0 when the car is stopped, and is carefully calibrated to ensure that the speedometer gives accurate readings.
If your speedometer isn't working, you may not be aware of how fast you are going which, as we are sure you have guessed, could be a big problem. Replacing a broken speedometer cable may just keep you from having to pay a hefty speeding ticket or worse, getting into a fender bender because you thought you were going a lot slower than you actually were.
How do I Know if my Speedometer Cable Needs to be Replaced?
The speedometer cable can become frayed, kinked, rusted, damaged by heat, or flat out torn. These problems can happen due to various reasons including moisture and dirt penetrating through the outer casing and causing the inner transmission wire to rust or seize, which in turn may cause the wire to either snap or wear a hole in the outer casing. Also, after many years of use, the lubricant inside the casing will diminish allowing more friction to build up between the wire and casing causing failure.
These failures with the cable can result in incorrect speedometer readings or a completely nonfunctional speedometer. The speedometer may jump or bounce up and down by several miles per hour while you are driving at a constant speed. You may find that this happens more often at very low speeds or at highway speeds. Under worse circumstances, the speedometer may seize and not move at all, being stuck at zero. In any of these circumstances the speedometer reading has to be considered unreliable and the speedometer cable should be replaced.
Can I Replace the Speedometer Cable Myself?
You can replace the speedometer cable yourself, but it will definitely require some effort. You will need to gain access to the cable both at the transmission and behind the dash, which will require the removal of the instrument panel. You will want to pay careful attention to how the speedometer cable is threaded and thread the new cable exactly the same way, being sure not to put any kinks in the cable and keeping it away from components that might overheat the cable. It is also advisable to lubricate the cable with white grease before installing it.
Need a Speedometer Cable Replacement?
No matter what kind of car, truck, SUV or van you drive you absolutely need a working speedometer in order to know the speed your vehicle is traveling at all times. Being able to gauge your speed properly is not only important to your own safety – and wallet – but to the safety of those who happen to be sharing the road with you. If you are experiencing issues with your speedometer and have determined that the cable is to blame, then you have come to the right place for a speedometer cable replacement. At 1A Auto, we have replacement speedometer cables for many makes and models, and at great prices!
At 1A Auto, we make shopping for a replacement speedometer cable for your car, truck, SUV or van easy - we're here to help you select the right part for your vehicle! Call our customer service toll free at 888-844-3393 if you have any questions about our speedometer cables, warranty, compatibility or to purchase, or you can buy online. Stay on the right side of the speed limit and order a speedometer cable replacement from 1A Auto today!
For more than 50 years, the Green family has been installing and using the same high quality auto parts that you'll find on our website. We actually use the parts we sell, and we've been selling online since 1999. Our company's mission is to
make your car projects go smoothly
, and to become your trusted source for auto parts. To this end, we treat our customers like family.
We employ USA based, knowledgeable support technicians. They'll help you through your project. We always make sure you get the right part. And we boast the industry's most generous returns policy. You won't find a company more passionate about auto parts than 1A Auto.