Highest Ratings

Quality: We've got the awards to prove it!

We've won the Bizrate Circle of Excellence award,

7 years in a row. Rated outstanding for quality, satisfaction, service, and on time delivery. 1A Auto selects the highest quality parts from the best manufacturers.

Check our excellent ratings

.

Fastest Shipping

No-Hassle Returns

USA Support Techs

Best Value

Our Guarantee
Customer Feedback

I used to rely on parts stores...
Buick Roadmaster
Jeff, Winter Springs, FL
Click here to try out our new site!
Choose Your Scion Model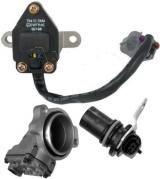 What are
Speed Sensors

and where are they Located?

Your vehicle's transmission speed sensor(s) are crucial components to all modern vehicles. These sensors are mounted on the transmission or transaxle. Your vehicle's control unit (ECU, TCU, or PCM) uses information from these sensors in conjunction with other sensor information to precisely control functions such as automatic transmission shift points, engine ignition timing and air / fuel ratio, as well as other functions.
Output Vs. Input Speed Sensors
A vehicle speed sensor (VSS), also known as an output speed sensor (OSS), is what tells your vehicle's control unit how fast the vehicle is going. Your vehicle's speedometer and odometer rely on the information from this sensor. Some vehicles also have a transmission input speed sensor (ISS), also known as a turbine shaft speed sensor (TSS), which is used to tell the control unit the rotational speed of the input shaft or torque converter. By using information from both sensors, the control unit can make the necessary adjustments to allow the vehicle to run efficiently and shift smoothly.
Speed Sensor Failure
Symptoms of a failed or failing speed sensor can vary depending on the year and model of the vehicle, but the most common would be an inoperative speedometer, improper shifting, and / or check engine light. Common OBD-II Trouble Codes related to transmission speed sensors include:
P0500 - Vehicle Speed Sensor Malfunction
P0501 - Vehicle Speed Sensor Range / Performance
P0502 - Vehicle Speed Sensor "A" Low Input
P0503 - Vehicle Speed Sensor Circuit Intermittent
P0700 - Transmission Control System Malfunction
P0705 - Transmission Range Circuit Malfunction
P0715 - Input / Turbine Speed Sensor Circuit Malfunction
P0716 - Input / Turbine Speed Sensor Circuit Range / Performance
P0717 - Input / Turbine Speed Sensor Circuit No Signal
P0718 - Input / Turbine Speed Sensor Circuit Intermittent
P0720 - Output Speed Sensor Circuit Malfunction
P0721 - Output Speed Sensor Circuit Range / Performance
P0722 - Output Speed Sensor Circuit No Signal
P0723 - Output Speed Sensor Circuit Intermittent
Need a Speed Sensor Replacement?
If your car or truck's transmission speed sensor(s) have failed, a replacement will be necessary as soon as possible considering their importance to your vehicle's proper operation. If you are in need of a speed sensor replacement, then look no further than 1A Auto for your auto part needs. At 1A Auto, you will find a large selection of aftermarket replacement speed sensors, including both vehicle speed sensors (VSS or output speed sensors (OSS)) and transmission input speed sensors (ISS or turbine shaft speed sensors (TSS)), for many makes and models. Our high quality, dependable aftermarket speed sensors are just what you need to get your automobile up and working again!
At 1A Auto, shopping for a transmission speed sensor replacement for your car, truck, SUV or van is easy - we're here to help you select the right one for your vehicle! Call our customer service toll free at 888-844-3393 if you have any questions about the product, warranty, compatibility or to purchase, or you can purchase your speed sensor replacement online right here at 1aauto.com.
For more than 50 years, the Green family has been installing and using the same high quality auto parts that you'll find on our website. We actually use the parts we sell, and we've been selling online since 1999. Our company's mission is to
make your car projects go smoothly
, and to become your trusted source for auto parts. To this end, we treat our customers like family.
We employ USA based, knowledgeable support technicians. They'll help you through your project. We always make sure you get the right part. And we boast the industry's most generous returns policy. You won't find a company more passionate about auto parts than 1A Auto.