Highest Ratings

Quality: We've got the awards to prove it!

We've won the Bizrate Circle of Excellence award,

7 years in a row. Rated outstanding for quality, satisfaction, service, and on time delivery. 1A Auto selects the highest quality parts from the best manufacturers.

Check our excellent ratings

.

Fastest Shipping

No-Hassle Returns

USA Support Techs

Best Value

Our Guarantee
Customer Feedback

I needed a boot cover for my 1...
Ford Galaxie
Jerry, Pascagoula, MS
Click here to try out our new site!
Choose Your Scion Model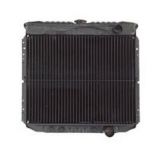 What is an Automotive Radiator and where is it Located?
Your radiator is one of the most important parts of your vehicle's cooling system. The engine in your car or truck works extremely hard and as it burns the air / fuel mixture, it generates a tremendous amount of heat. Since the engine operates at its best when it is at the ideal temperature, it needs to be cooled down so that it does not overheat, and your vehicle's radiator plays an integral role in doing just that. Located behind the grille, the radiator's only function is to take hot coolant from the engine and cool it down before sending it back in order to keep the engine cool.
So, how does the radiator in your automobile do this? Basically, coolant from the water pump enters into the engine. As the coolant goes around the engine's cylinders, it picks up the heat from the friction and burning of fuel, thus transferring it from the engine to the coolant. The warm coolant is then forced out and travels through the upper radiator hose and into the automobile's radiator via the water outlet. From there it goes into small chambers that are all throughout the radiator, where it is then cooled down by the air that is passed freely through the radiator's core by the radiator fan. Air passes through the radiator when the vehicle is moving as well, but the use of cooling fans aids this process when the engine is being worked harder, and / or when the car or truck isn't moving. The cooled coolant then goes back to the water pump via the lower radiator hose and the process repeats itself.
While older auto radiators were typically made of heavy copper and brass, today's modern cars and trucks typically use lighter ones made of plastic and aluminum.
Common Auto Radiator Problems
If your coolant is not changed on a regular basis it can actually clog your auto radiator's cooling tubes. Corrosion of the cooling tubes and tanks can occur if it's left untreated for too long. If there is too much pressure in the cooling system, it could result in a crack in an end tank or a cooling tube. For models with plastic tanks, excessive heat can cause the plastic to melt and deform. Your vehicle's radiator can also suffer physical damage from rocks or other debris puncturing it. If your car or truck's radiator is suffering from one of these problems, you may need a replacement.
Need a Radiator Replacement for your Car or Truck?
Is your car or truck overheating and running weakly? Overheating will result from a damaged or poorly flowing radiator. To get your vehicle back on the road, a replacement radiator is exactly what you need and luckily for you, 1A Auto has you covered! We have quality, aftermarket radiators for many cars and trucks, at great prices. For a durable and dependable auto radiator replacement that will last you 2-3 times longer on average than your used OEM automotive radiator, buy from 1A Auto today.
1A Auto Aftermarket Radiator Features:
- Direct replacement
- Strict quality control build specifications to ensure reliable parts
- Engineered for optimum fit and heat-transfer performance to keep your engine cooler
- 100% tested each and every time, to prevent malfunctioning parts from reaching you
- Proper fittings for transmission lines (if needed)
- Limited 2 year warranty in case something goes wrong, we have you covered
At 1A Auto, shopping for an aftermarket radiator replacement for your car, truck, SUV or van is easy - we're here to help you select the right part for your vehicle! Call our customer service toll free at 888-844-3393 if you have any questions about our aftermarket radiators, warranty, compatibility or to purchase, or you can buy online. So, don't risk another day of missed work due to a broken automobile; get a replacement radiator for your car or truck from 1A Auto.
For more than 50 years, the Green family has been installing and using the same high quality auto parts that you'll find on our website. We actually use the parts we sell, and we've been selling online since 1999. Our company's mission is to
make your car projects go smoothly
, and to become your trusted source for auto parts. To this end, we treat our customers like family.
We employ USA based, knowledgeable support technicians. They'll help you through your project. We always make sure you get the right part. And we boast the industry's most generous returns policy. You won't find a company more passionate about auto parts than 1A Auto.