Highest Ratings

Quality: We've got the awards to prove it!

We've won the Bizrate Circle of Excellence award,

7 years in a row. Rated outstanding for quality, satisfaction, service, and on time delivery. 1A Auto selects the highest quality parts from the best manufacturers.

Check our excellent ratings

.

Fastest Shipping

No-Hassle Returns

USA Support Techs

Best Value

Our Guarantee
Customer Feedback

I needed a boot cover for my 1...
Ford Galaxie
Jerry, Pascagoula, MS
Click here to try out our new site!
Choose Your Jeep Model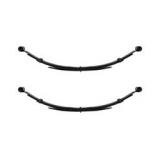 What is a Leaf Spring and where is it Located?
A leaf spring, sometimes also referred to as a semi-elliptical spring, cart spring or carriage spring, is an arc of steel that attaches to a vehicle's axle. Leaf springs are commonly used for trucks (new and old), as well as for some big old cars, and generally only on the rear axle. In some heavy-duty trucks they may be used in the front as well. However, you won't find leaf springs used on any modern cars as they don't ride all that nicely, and aren't necessary for smaller vehicles. They are also commonly used in off-road applications. You may not have heard or even ever noticed leaf springs on these types of vehicles before, but they are one of the earliest forms of suspension and the technology has been around since the dawn of time. Well, maybe not that long, but for at least a few centuries. Leaf springs provide the benefit of allowing the vehicle to support carrying and towing heavy loads really well by absorbing the force the weight creates as the vehicle is driven, bending and flexing out in a shape like a horseshoe or a slightly curved archery bow as it is compressed and adapts to the conditions in the road, so that the vehicle doesn't get out of control, sag or bottom-out.
Automotive leaf springs come in several different styles. They can be monoleaf springs made of a single sheet of metal which is thicker in the middle and tapers towards the end, or the more common multi-leaf springs, which use several layers of metal to achieve a similar effect. They can also be either double-eye style, with both ends curved into a circle, or open-eye style with one end curved into a circle and the other end culminating in a hook or a flat end.
So, how does it all work you ask? Well, the leaf spring attaches at the rear to a shackle, which in turn connects to a bracket or "hanger" mounted to the body. The front end connects directly to another bracket. On vehicles that have been designed with a unibody frame, like most newer SUVs, the leaf spring shackle mounts directly to the frame rather than to a bracket. So, on a typical vehicle with a full frame (most trucks) and two leaf springs in the rear, there will be two leaf spring shackles and four leaf spring brackets; vehicles with a unibody frame will have two leaf spring shackles and two leaf spring brackets. If the truck also has two leaf springs in the front of the vehicle, well, you get the picture – it all depends. So, while the front end of the leaf spring is held close to the vehicle's frame by the bracket, the rear end is allowed some amount of movement by the shackle. This allows the spring to flex in response to bumps in the road, keeping the vehicle as level as possible. Automotive leaf springs can attach above the axle (known as the overslung style) or underneath the axle (underslung style), and the center of the spring provides a place for the axle.
How do I Know if my Leaf Spring Needs to be Replaced?
First, inspect the vehicle's leaf spring shackles and brackets. Leaf spring suspension is designed to be simple and sturdy, but like any other part, shackles and brackets are susceptible to wear and tear. Shackles (literally) hang out underneath the body of the vehicle where they get exposed to the elements. Wet or humid conditions can lead to rust and corrosion, as can exposure to salt. Shackles and brackets can also get worn out by being jostled around by rough road conditions, potholes, or minor collisions. These can also lead to a broken leaf spring shackle. A thumping or scratching sound in the rear of the vehicle can be a sign of a worn or damaged leaf spring shackle or bracket. If the shackle becomes too loose, it may bump into the frame of the vehicle, which can cause further damage to both the shackle and the frame. As for the leaf spring bracket, If a bracket breaks, the body of the vehicle will fall onto the leaf spring without the support of the suspension. This can cause further damage to the bracket and the spring as well as the body. Complete failure of the leaf springs can cause the body of the vehicle to drop onto the tires, rendering it immobile. It would be wise to periodically visually inspect the brackets for cracks or wear before any such disaster occurs, and to inspect the shackles as well.
A saggy appearance in your vehicle's rear end can also be a sign something is wrong with your leaf spring. On pickup trucks, a level appearance front to back, when the truck is unloaded, can also indicate that the leaf springs are sagging. Truck manufacturers raise the rear end by a couple of inches so that they don't become too low when there's weight in the bed. Unloaded pickups should actually have a very slight nose-down appearance.
There are a couple ways to check the health of your leaf springs. You can park your vehicle on a level surface and measure the distance from the ground to the top of each wheel well. If there is a significant difference between the heights of either side, one side may have a worn spring (or some other part of the suspension may be worn). You can also visually inspect the leaf for cracks, corrosion or wear.
Can I Replace a Leaf Spring Myself?
As mentioned earlier, leaf springs are designed to be simple. Therefore, if you have determined that you are in need of a leaf spring replacement, replacing it should be within your grasp with a bit of effort. You will need to raise the rear end onto jack stands and allow the suspension to sag, in order to take weight off the springs. Remove the old springs and bolt the new ones into place. After slowly lowering the vehicle back to the ground, you'll want to check that the bolts are tight when the vehicle's weight is on them.
Need a Replacement Leaf Spring?
Too much heavy cargo can weigh down your vehicle or cause it to rock and sway all over the road. Leaf springs allow for the vehicle to handle this load without compromising the stability and control of the car or truck. So, if your leaf springs have issues or have completely failed, it is imperative that you replace them as soon as possible as it will lead to unsafe driving or even worse, a possible inoperable vehicle. Luckily for you, if you are in need of a leaf spring replacement, then you have you have come to the right place! At 1A Auto, we carry aftermarket leaf springs for many trucks and SUVs.
We also make shopping for replacement leaf springs for your SUV, pickup or heavy-duty truck easy - we're here to help you select the right parts for your vehicle! Call our customer service toll free at 888-844-3393 if you have any questions about our aftermarket leaf springs, warranty, compatibility or to purchase, or you can buy online.
For more than 50 years, the Green family has been installing and using the same high quality auto parts that you'll find on our website. We actually use the parts we sell, and we've been selling online since 1999. Our company's mission is to
make your car projects go smoothly
, and to become your trusted source for auto parts. To this end, we treat our customers like family.
We employ USA based, knowledgeable support technicians. They'll help you through your project. We always make sure you get the right part. And we boast the industry's most generous returns policy. You won't find a company more passionate about auto parts than 1A Auto.