Highest Ratings

Quality: We've got the awards to prove it!

We've won the Bizrate Circle of Excellence award,

7 years in a row. Rated outstanding for quality, satisfaction, service, and on time delivery. 1A Auto selects the highest quality parts from the best manufacturers.

Check our excellent ratings

.

Fastest Shipping

No-Hassle Returns

USA Support Techs

Best Value

Our Guarantee
Customer Feedback

I own a 1999 Daewoo Leganza. M...
Daewoo Leganza
Massimo, San Diego, CA
Click here to try out our new site!
Choose Your Honda Model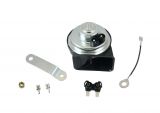 Your car or truck horn is your "voice" to the outside world. No one really misses their car horn until they need it! A car horn is a simple device based on an electromagnet and an internal diaphragm to move air and generate sound. Most state's vehicle safety inspections require your vehicle to have an operating horn to pass inspection.
There are many reasons you may need to fix or repair a broken car horn. There may be a problem with the switch, or button. There could be a break in the wiring from the switch or button to the horn relay, or from the relay to the horn itself. The horn relay or horn itself may also be the problem, due to a broken electrical connection in the horn, or damage to the diaphragm.
For most applications, we offer high and low tone horns. Typically cars that have only one horn will use the high tone horn. Cars or trucks that have two horns will use one high and one low tone horn. We also offer high output horns. Some vehicles came from the factory with high output horns, and they are also used for some commercial applications and trucks.
At 1A Auto, we make shopping for a replacement horn for your car, truck, SUV or van easy - we're here to help you select the right part for your vehicle! Call our customer service toll free at 888-844-3393 if you have any questions about our automotive horns, warranty, compatibility or to purchase, or you can buy online.
For more than 50 years, the Green family has been installing and using the same high quality auto parts that you'll find on our website. We actually use the parts we sell, and we've been selling online since 1999. Our company's mission is to
make your car projects go smoothly
, and to become your trusted source for auto parts. To this end, we treat our customers like family.
We employ USA based, knowledgeable support technicians. They'll help you through your project. We always make sure you get the right part. And we boast the industry's most generous returns policy. You won't find a company more passionate about auto parts than 1A Auto.